Place of Origin:CN;GUA
Instrument classification:Class II
Brand Name:Mayamed
Model Number:MY-C011D
Type:Fetal Monitor
Display:12.1"TFT Color screen
Optional:Twin Monitoring,FAS(Fetal Acoustic Simulator)
Standard:SpO2,MHR,NIBP,TEMP,ECG,RESP,TOCO,FHR,FM
Product name:Portable maternal/fetal monitor

Maya Medical have rich experience to build up the new hospital and new clinic , our one-stop service is your best choice !
We concentrate on African market and set up two branches in Nigeria and Madagascar. Meanwhile, we have already established after-sale service office in Lagos Nigeria, Islambad Pakistan and also Neirobi Kenya.
12.1 inch TFT color screen FHR TOCO SpO2 HR NIBP foldable portable maternal/fetal monitor
This series is a lightweight, compact fetal and maternal monitor, it can meet the need of whole stages of labor (including antepartum and intrapartum monitoring for fetus and mother),It also can be connected to the obstetrical central station.
 
Features
1. Light and compact design, simple to use front panel controls
2.12.1"TFT Colour screen ,folding 90 degree
3. The system setup can be done very easy and can be stored automatically
4. The internal line 152mm thermal printer can records FHR ,TOCO ,The life exceed over 20 years
5. A standard patient event marker and a clinical event marking button to separately mark Clinical events
6. Auto Fetal movement are available
7. Multi-crystals ,wide beam form, high sensitivity ultrasound transducer ,low ultrasound power, Safer to the fetal
8. AC or LI-battery operated
9. More than 12 hours data storage, then can be played and reprinted
10. Build-in interface to the central nurse station
11. Standard:SpO2,MHR,NIBP,TEMP,ECG,RESP,TOCO,FHR,FM
Optional: Twin Monitoring,FAS(Fetal Acoustic Simulator)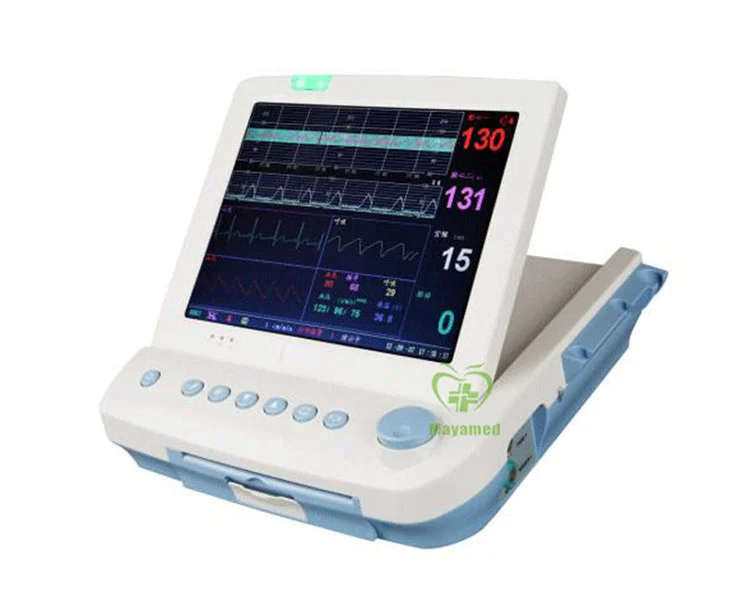 Technical Specifications
- FHR
Transducer: Multi-crystals, wide wave beam, pulsed-wave working method, high sensitivity
Strength:< 5mW/cm2
Working Frequency: 1.0MHz
Signal Processing: Special DSP system and modern recognition
Measurement Range: 50~240bpm
Alarm Range:
High Limit: 160, 170, 180, 190 bpm
Low Limit: 90, 100, 110, 120 bpm
Maximum Audio Output Power: 1.5 Watt
- TOCO
Measurement Range: 0-100 units
-SpO2
Measurement Range: 70%~99%
Measure Accuracy: ±3% error
-HR
Measurement Range: 30bpm~240bpm
Measure Accuracy: ±2 bpm
- NIBP
Measurement Range SYS 6.7~32.0kPa(50~240mmHg)
MEAN: 3.4~26.6kPa(25~200mmHg)
DIA: 2.0~24.0ka(15~180mmHg)
NIBP Accuracy: ±1.1kPa(±8mmHg)or ±5% of results, taking the bigger one;