Type:Blood Analysis SYstem
Place of Origin:CN;GUA
Instrument classification:Class II
Brand Name:maya
Model Number:MY-B002B
Item name:auto hematology analyzer
Test principle:Impedance method for WBC,RBC and PLT. Spectrophotometry for HGB
reporter:Built-in thermal recorder
Parameter:3 part differentiation of WBC,20 parameters + 3 histograms
Sample volume:10μl peripheral blood or venous blood
Throughput:60 samples/hour
Two Reagent:Diluent and Lyse for daily use
storage:100,000 sample results
Display:8.4 inch LCD
Port:Huangpu

Factory Price sale auto Hematology Analyzer In-Vitro Diagnostic Equipment Test Machine,fully automated Hematology Analyzer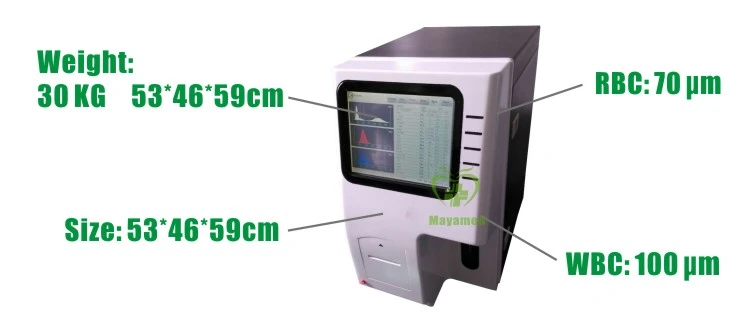 Features:
*Test principle: Impedance method for WBC,RBC and PLT. Spectrophotometry for HGB
*Parameters: 3-part differential of WBC;20parameters + 3 color histograms(WBC/RBC/PLT)
*Sample Consumption: Venous Mode:10μL Capillary Mode:10μL Pre-diluted Mode:20μL
*Operation Mode: Windows operation system with keyboard&mouse input
*Throughput:35/ 60 samples/hour
*Two Reagent : Diluent and Lyse for daily use.
*Storage: 100,000 sample results inclusive of the histogram
*Clot clear: high voltage pulse on aperture and high pressure backflush.
Explanation:
*QC Mode:L-J,X,X-B,SD,CV,QC histogram
*Performance:Parameter Repeatability(CV%) Linear Range
*Cross Contamination Ratio:WBC/RBC/HGB<0.5%,PLT<1%
WBC≤2.0% 0.00-99.9x109/L
RBC≤1.9% 0.00-9.99x1012/L
HGB≤1.9% 0-300g/L
MCV≤0.4% 40-150fL
PLT≤4.0% 0-999x109/L
*Display:8.4"LCD,resolution:640x480
*Reference Value:Baby,Kid,Woman,Man,Normal and Customization
*Interface:2xUSB,1xparallel(for external printer),1xVGA(for external monitor),2xPS/2,2xRS-232(fornetwork);
*Printer:Built-in thermal recorder,optional external printer,eight report formats
*Environment Requirement:Temperature:15℃~35℃;Humidity:10%-90%;
*Power supply:AC100-240V 50/60Hz
23 parameters
WBC Lymph# Mid# Gran# Lymph% Mid% Gran% RBC HGB HCT MCV MCH MCHC RDW-SD RDW-CV PLT MPV PDW PCT P-LCR WBC Histogram RBC Histogram PLT Histogram
The Picture of Factory Price sale auto Hematology Analyzer In-Vitro Diagnostic Equipment Test Machine,fully automated Hematology Analyzer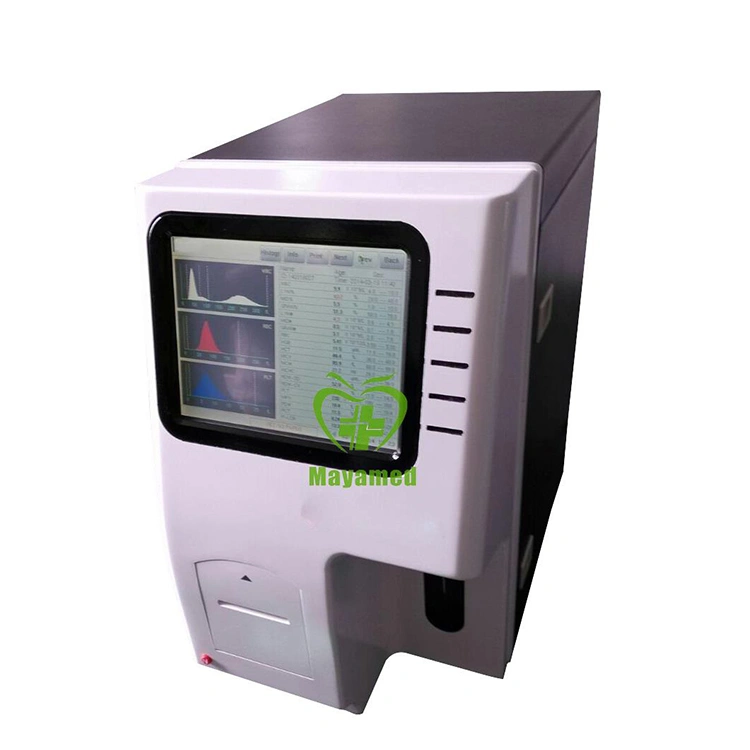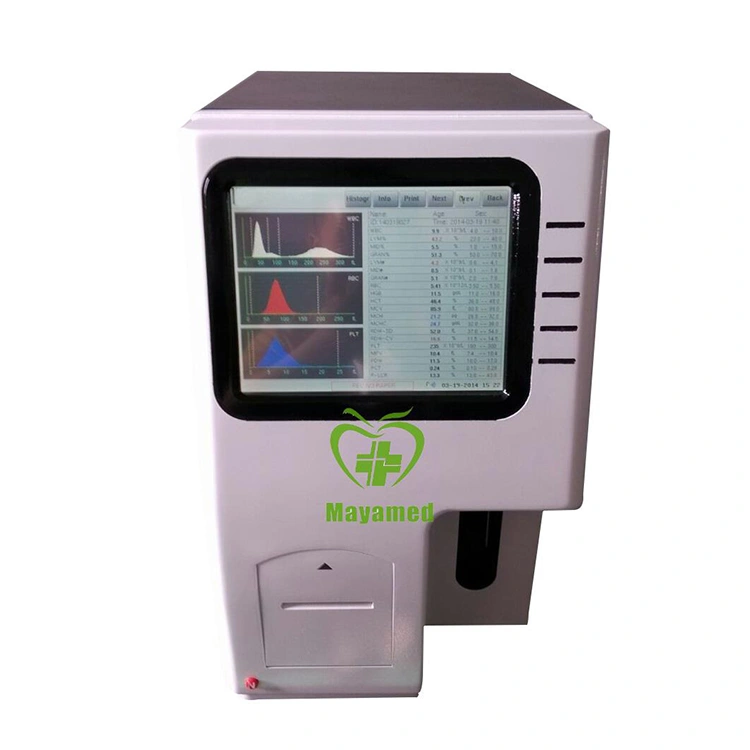 Our services:
1. For all your inquires about us orourproducts,we will replyyou in detail within 24 hours
2. We ownprofessional teamhave professional attitude to recommend products and services, introducing theproductsfor you.
3.Ourproductshaveone year free warranty, and it is still providing after-sales service.
4. We offerOEM services. Can print your own logo on theproducts.
5. We have veryexperienced engineers,can help you better usetheproductsourotherproducts.
1.How to buy your products ?Do you have distributor in our country?
You can buy the products from our company directly.Normally the procedure is:Sign the contact ,payment byT/T, contact the shipping company to delivery the goods to your country.
2. What is the warranty?
The free warranty is one year from the day of Commissioning qualified.
3.Can we visit your country ?
Of course,we will prepare for everything in advance if it is necessary .Generally,it is require that customers must have build agency relationship or business relationship with our company.
4.How long is the validity of quotation?
Generally,our price is valid within one month from the date of quotation .The price will be adjusted appropriately according to the price fluctuation of raw material and changes in market .
5.Do you have the CE certificate ?
Yes, most of our products have the CE certificate.