Properties:Medical-Ray Protective Products
Lead equivalent:0.25mmpb,0.35mmpb,0.5mmpb
Function:Radiation protection
Warranty:1 Year
After-sale Service:Online technical support
Shelf Life:1years
Instrument classification:Class II
Place of Origin:CN;GUA
Power Source:N/A
Model Number:MA-1104
Brand Name:MAYA
Material:N/A
Quality Certification:N/A
Safety standard:N/A
Specification of the lead apron:
Lead equivalent :0.25mmpb,0.35mmpb,0.5mmpb
Different size and color availale
Radioactive shielding cloths, radioactive shielding, radioactive shielding
1.x-ray protective clothing,medical protective clothing,recycled protective clothing
2.They are mainly used for the protection of the X-ray. The customers can choose these protective series products of different specifications according to their own needs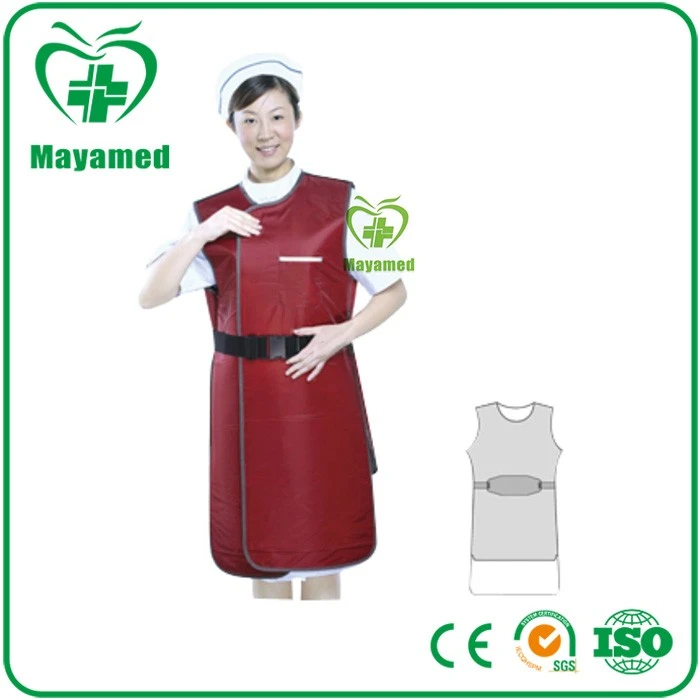 Info of Products:
1. The consumer can choose different types of the protective products (lead rubber dress, lead rubber vest, lead rubber cap, lead rubber apron, etc.) according to his requirement.
2.The protective products are mainly used for the radiation operator to prevent the scattering of the X-ray and keep his body healthy during the operation.
3. Before operation, the operator should check the surface packing cloth (inner and outer) of the protective products wheather it is firm or not, check wheather the connection of the fittings is firm, check whether the attenuation equivalent on the mark is suitable to the operator.
4.After the examination, put on the protective products, then operate.
5. After the operation, lie the protective products flat or hang them up by coat hangers to avoid breach caused by a long-time fold and avoid radial leak.
6, When storing the protective products, put them in the well airy room where untouched the sun shine and far away from the heat source. Musn't touch with the acid or alkali chemical products to ensure the service life of them.
7. According to the standard of GB16757-1997, the service life of the protective products is 4~5 years. The user should have a regular examination to them once a year. The examination method is to fondle or bend the clothing by hand and check it by eyes. If the crackle of the product exceeds one third of it, the product cannot be used any more, must be discarded or renewed.
8. The attenuation equivalent of the protective products is: 0.25mmPb, 0.35mmPb, 0.5mmPb.