Type:Portable Ultrasonic Diagnostic Devices
Place of Origin:CN;GUA
Instrument classification:Class II
Brand Name:MAYA
Model Number:MY-A042
PW depth:5mm-150mm
precision:1mm
Probe Frequency:2MHz PW, 4MHz CW
Spectrum scanning speed:4s-16s can be arbitrarily adjusted
Sample volume regulation (PW):0.77mm-13mm
Maximum detection speed:≥ 300cm /s
Gain range:1-56dB
Transmit power:10150mw(1-800% adjusted)
Spectrum display:more than 1000 color disc
Supply Voltage:220v±10%, 50Hz/60Hz

Maya medical Transcranial Doppler Equipment TCD cheap price ultrasound machine China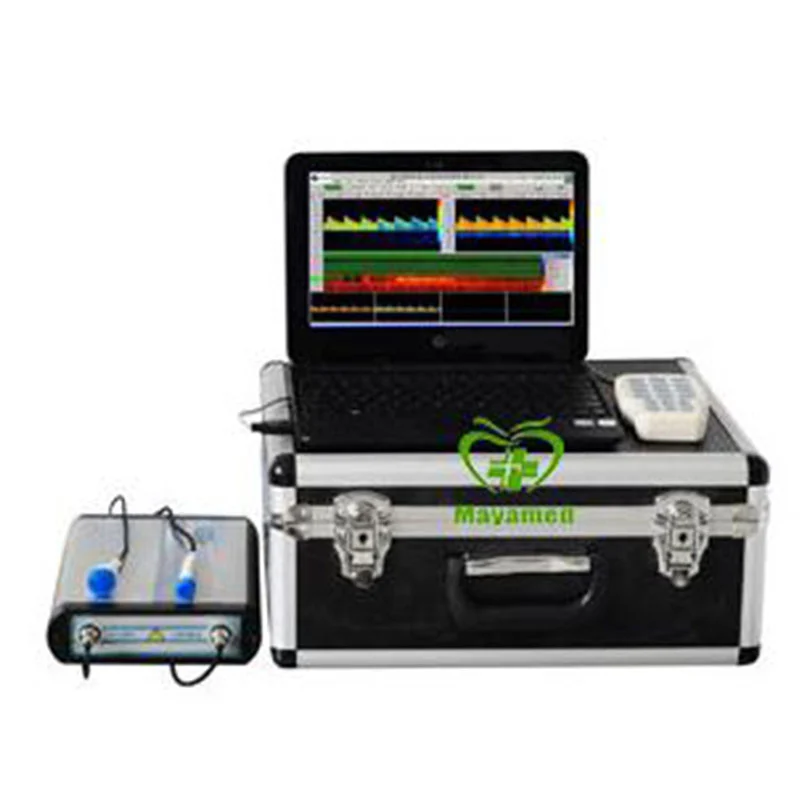 Characteristics:
All Information is Stored:
The system provides advanced full-information storage function, a complete
record of the clinical testing information.
A flexible testing process can be reproduced, in a dynamic real-time playback mode to adjust the gain, envelope, manual calculation. The maximum meets
clinical needs.

Advanced M-wave mode:
Completely abandon the traditional model. From the 512-point FFT large
image, doctors are able to freely observe the Doppler signal over the depth,
arbitrary switching handy.
High sensitivity:
Application of digital technology makes the equipment work without
ultrasound coupling agent even under 10% power. The image is still
very clear and the power could be adjusted freely, making detection of elderly patients with no problems.
Powerful Case Management:
The system provides a case database management system.The network
transmission function optional as per customers' request.
Probe Conversion:
With the technology, using 4MHz continuous Doppler shift pulse Doppler
detects extracranial blood vessels, superficial blood vessels more accurate.
Report Edit:
Based on powerful word document editing, free editing, storage, access to
and so on, the coexistence of a large number of diagnostic terminology,
diagnosis.
Training: Graphic video of professional medical training software
Main technical parameters:
Window 7 operation system
PW depth:5mm-150mm, precision: 1mm
Probe Frequency: 2MHz PW,4MHz CW
Spectrum scanning speed: 4s-16s can be arbitrarily adjusted
Sample volume regulation (PW): 0.77mm-13mm
Maximum detection speed: ≥ 300cm /s
Gain range:1-56dB
Transmit power: 10150mw(1-800% adjusted)
Spectrum display: more than 1000 colordisc
All information playback:>30h, synchronous spectrum image and voice
Image storage: >20,000 frame
Automatically detect the display index: Vp Vm Vd PI RI SD MI HR TIC TIB
Frequency spectrum; 128point, 256 points, 512-point FFT
Supply Voltage: 220v±10%,50Hz/60Hz
Other technological index could be selected:8 segment M wave
Emboli detection function: under single channel or dual channel model to
monitor the emboli, fixing the emboli threshold.
Spindle wave technology
Monitoring trends images.
Clinical Applications:
Clinical diagnosis:
Cerebral vascular stenosis and occlusion
Cerebral embolism
Vasospasm
Cerebrovascular atherosclerosis
Arteriovenous malformation
Migraine headache
Hemorragic stroke, ischemic stroke
Intracranial aneurysm
Vertigo and vertebral-basilar artery disease diagnosis
Transient ischemic attack
Epidemiological study of brain blood vessel
Stroke prediction and the elderly health care
Standard Configuration:
Trolley type/Luxury model:
Main unit 1 set
19inch LCD display 1 pc
English TCD software 1 pc
HP colorink-jetprinter 1 pc
2MHz PW probe 1 pc (2pcs for dual channel)
4MHz CW probe 1 pc
Medical Trolley 1 pc
Remote control keyboard 1 pc
English user manual 1 pc
Portable type:
Main unit (DELL laptop based) 1 set
English TCD software 1 pc
2MHz PW probe 1 pc (2pcs for dual channel)
4MHz CW probe 1 pc
Remote control keyboard 1 pc
English user manual 1 pc