Place of Origin:CN;GUA
Model Number:MY-C005D
Brand Name:MAYA
Type:Other
Product name:12.1 inch Modular patient monitor
12.1 inch high-brightness TFT LED Modular patient monitor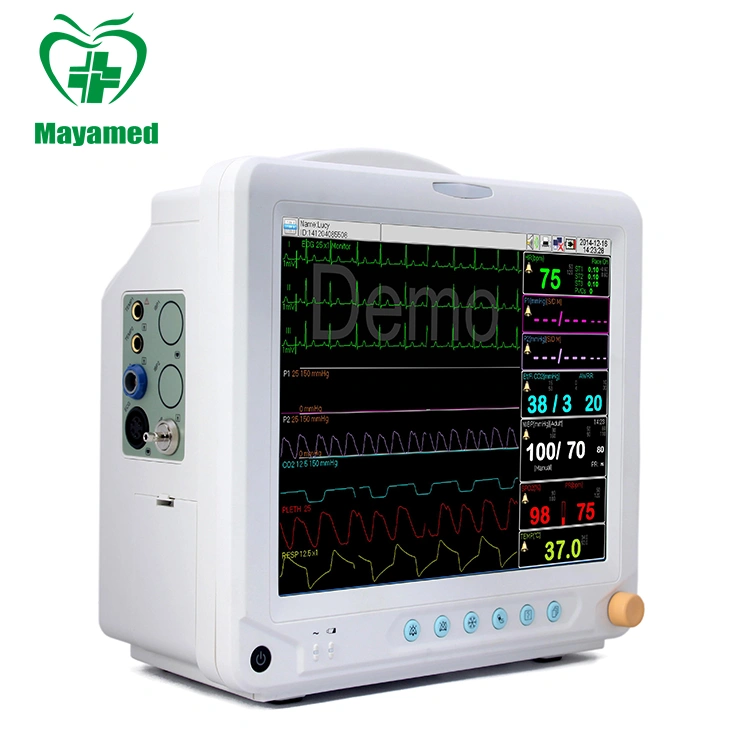 The MY-C005D patient monitor is designed to match the pace and unique needs of adult, pediatric, and neonatal intensive care; anesthesia and peri-operative care; OR and cardiac care environments.
An optional USB Mouse/Keyboard control eases navigation and data entry.
An optional HDMI output eases observation from a long distance.
Features
Core
*Newly advanced main board with Linux OS, calculating speed is 4 times faster than traditional products
*Support storage of 2160 hours trend table and graph review, 2 hours waveform review, 2000 groups NIBP review and 2000 alarm events review
Body
*12.1 inch high-brightness TFT LED
*Support display 9~13 waveforms
*Support 7 channel ECG waveform display simultaneously
*Optional touch screen
*Optional HDMI output
Printer
*Built-in high-speed 50mm thermal printer
(Brand: SEIKO, Japan)
Central System
*Optional Build-in wireless network module, supporting wired or wireless connection to the central monitoring station.
*Optional Support HL7 (Health Level Seven)
Alarm
*Three-level acousto-optic alarm
*Sensor-off alarm
*Paper out alarm
*Support alarm review
*Support alarm pause
Linux OS
*Support operation with mouse and computer keyboard (option)
*Multi-display mode to meet different clinical requirement, including standard interface, big font, OxyCRG, trend graph, NIBP review and full leads ECG interface.
*NIBP self-test mode: including overpressure test, static pressure test and air leakage test.
*Generate ID automatically when register a new patient
*Support medical history search by patient ID, name and mobile number
*18 types of Arrhythmia analysis and real-time S-T segment analysis and pacemaker detection
*Drug calculation and titration table
*Support multi-language display
*Support online software upgrading by net/USB