Place of Origin:CN;GUA

Model Number:MY-C010A

Brand Name:MAYA

Type:medical multi paramete patient monitor

name:MY-C010A 7"Maternal& Fetal Monitor CTG machine with good price

display:7 inch

Model:MY-C010A

Metal Type:medical multi paramete patient monitor

Product Name: patient monitor

Strength::<5mW/cm2

feature:Neonate ,Pediatric and Adult

usage:Neonate ,Pediatric and Adult

Working frequency::1.0MHz

Measurement range::50~210 bpm
MY-C010A 7"Maternal& Fetal Monitor CTG machine with good price
the detail picture of the medical patient monitor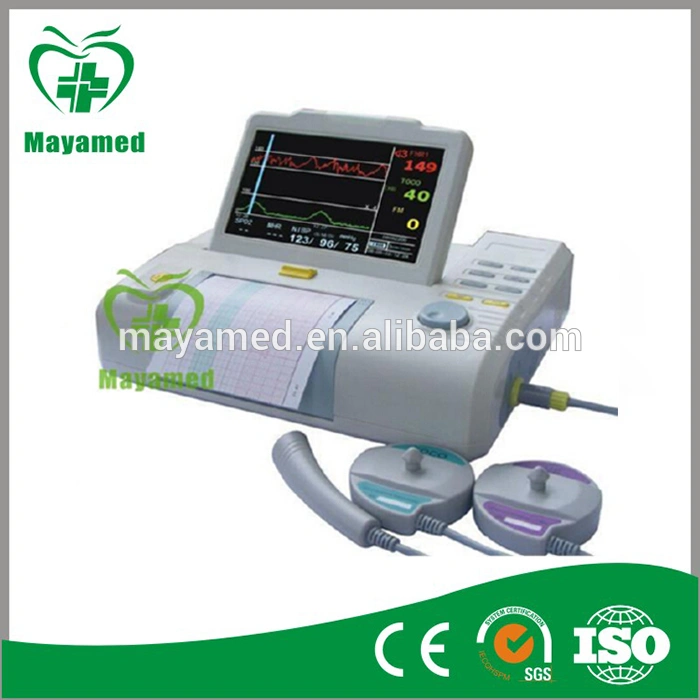 Description of medical patient monitor
Parameters: FHR, TOCO, FM
Portable, compact and beautiful design, which is convenient for the doctors to carry and use.
7"LCD display and the doctor can visually see the fetal heart rate and uterine pressure changes on the screen.
Using autocorrelation method to calculate FHR, and has high comprehensive sensitivity.
Using 110mm wide printer to output the curves of FHR and TOCO and other monitoring data, which can help the doctor diagnose.
Big audible and visual alarm on the top of the screen and the limit alarm is more eye-catching.
Modular design, and easy to upgrade.
Power supply: AC and DC. Built-in rechargeable battery can be used more than two hours.
Humanized detail design, the color of any waveform and data can be set to the best effects according to the environment light or your favorite.
Builtin communication interface, which can be connected to the central monitoring station into wired or wireless network systems.
Optional: NIBP, SPO2, HR of Mother.
Optional: function of monitoring twins.
Technical Date
fetal/maternal monitor
Fetal Heart Rate:
Transducer: Multi-crystals, pulsed doppler , high sensitively
Strength: ,<5mW/cm2
Working frequency: 1.0MHz
Signal processing: special DSP system and modern recognization.
Measurement range: 50~210 bpm
Alarm Range:
High limit: 160,170,180,190 bpm
Low limit: 90,100,110,120 bpm
Maximum audio output power : 1.5 Watt
Toco:
Measurement range: 0~100 units
Maternal SpO2 measure:
Measure scope : 70%~99%.
Measure accuracy: ±3%
Pregnant HR Measure:
Measure scope: 30bpm~240bpm
Measure accuracy: ±2 bpm
NIBP measure:
a) NIBP-SYS (6.7~32.0Kpa)(50~240mmHg)
b) NIBP-DIA (3.4~26.6Kpa)(25~200mmHg)
c)NIBP-MEAN(2.0~24.0ka(15~180mmHg)
NIBP Accuracy: ±1.1kPa(±8mmHg)or ±5% of the results, take the bigger one.
Maximum Mean error : ±5mmHg
Maximum Standard deviation 8mmHg
Pulse Rate Accuracy: Maximum Mean error : ±2bpm
Measure accuracy: ±2 bpm or ±5% of the results, take the bigger one.
Measure mode: Manual
Display:
The LCD displays FHR, TOCO, FM , maternal parameters , time, date, volume and so on, It can store and play
back the data.
Power: a.c.100-240V,50/60Hz or 8.4 Li-LON
Power Consumption: < 20W
Dimension: 295W×240D×73H(mm)
Net weight:1.75kg
Working Environment:
Temperature: 5~40℃. Relative humidity: 10~80%
Transducer Acoustic Output:
Under the requirements laid down in IEC 1157, 1992, the peak negative acoustic pressure
does not exceed 1Mpa. The output beam intensity does not exceed 20mW/cm2
and the spatial-peak temporal-average intensity does not exceed 100mW/cm2
GEL:
Viscous aqueous non-sensitising, hypo-allergenic and non-irritating to skin. Indefinite shelf life,
bacteriostatic (not sterile).