Type:Spirometer
Place of Origin:CN
Instrument classification:Class II
Brand Name:MAYAMED
Model Number:MY-C036E
Product name:handheld Spirometer
Display mode:2.8'' color TFT-LCD
Display resolution:240*320
Volume range:0~10 L
Volume accuracy:±3 % or ± 0.05 L(whichever is greater)
Flow range:0 L/s~16 L/s
Flow accuracy:±5 % or ±0.2 L /s(whichever is greater)
Working current:200 mA
Power supply:DC3.7 V rechargeable lithium battery
Certificate:CE ISO
 MY-C036E medical portable handheld digital Spirometer price with spirometer filter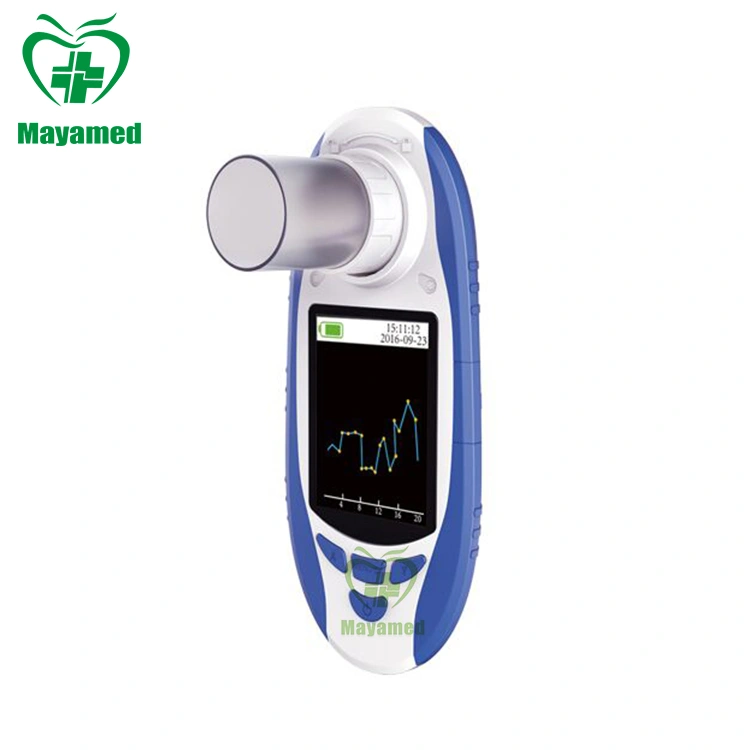 Features
Forced Vital Capacity (FVC), Forced Expired Volume in one second (FEV1), the ratio of FEV1 and FVC (FEV1/FVC), Peak expiratory flow (PEF), 25% flow of the FVC (FEF25), 50% flow of the FVC (FEF50), 75% flow of the FVC(FEF75) and average flow between 25% and 75% of the FVC(FEF2575) can be measured. Besides, the testee condition can be shown by the ratio of the measured value and the predicted value.
Flow rate-volume chart, volume-time chart display.
Data memory, delete, upload and review.
Trend chart display.
Calibration.
Information prompts when volume or flow goes beyond the limits.
Automatic power off when there is no operation in two minutes.
Rechargeable lithium battery and with charging tips.
Battery power display.
Performance
Display mode: 2.8'' color TFT-LCD
Display resolution: 240*320
Volume range: 0~10 L
Volume accuracy: ±3 % or ± 0.05 L(whichever is greater)
Flow range: 0 L/s~16 L/s
Flow accuracy: ±5 % or ±0.2 L /s(whichever is greater)
Working current: 200 mA
Power supply: DC3.7 V rechargeable lithium battery
Safety class: internally powered equipment, type BF applied part
Accessories
1.A User Manual
2.A USB data line
3.A mouthpiece
4.A power adapter
5.A CD (PC software)
6.A nose clip
Physical characteristic
Dimension: 165 mm(L)× 75 mm(W)×30 mm(H)
Weight: 150 g