Remote control exposure distance:≥ 6m
Max. exposure field:450*450 mm / when distance 1000mm
Internal resistance of power supply wire:≤1Ω
Power capacity:Greater than 5kvA
Current (Max., instantaneous):<24A
Frequency:50 Hz
Voltage:Single Phase AC 180~250V
N.W.:110kg
G.W.:200kg
Packing Dimension:135cm*75cm*150cm
Properties:Medical X-ray Equipments & Accessories
Instrument classification:Class II
Warranty:1 Year
After-sale Service:Online technical support
Place of Origin:CN;GUA
Brand Name:MAYA
Model Number:MY-D023
Maya Medical have rich experience to build up the new hospital and new clinic , our one-stop service is your best choice !
We concentrate on African market and set up two branches in Nigeria and Madagascar. Meanwhile, we have already established after-sale service office in Lagos Nigeria, Islambad Pakistan and also Neirobi Kenya.
MY-D002B medical mobile x ray scanner china x-ray machine
Featuresof X-ray Machine
1. Used for X-ray radiography in wards, especially in orthopaedic
wards.
2. Single focus point, high voltage silicon stack full-wave rectification.
3. kV, mA and s capacity interlocking control system, overload
indicating system.
4. Wired manual exposure & remote control exposure
5. Sound and light indication during the course of exposure.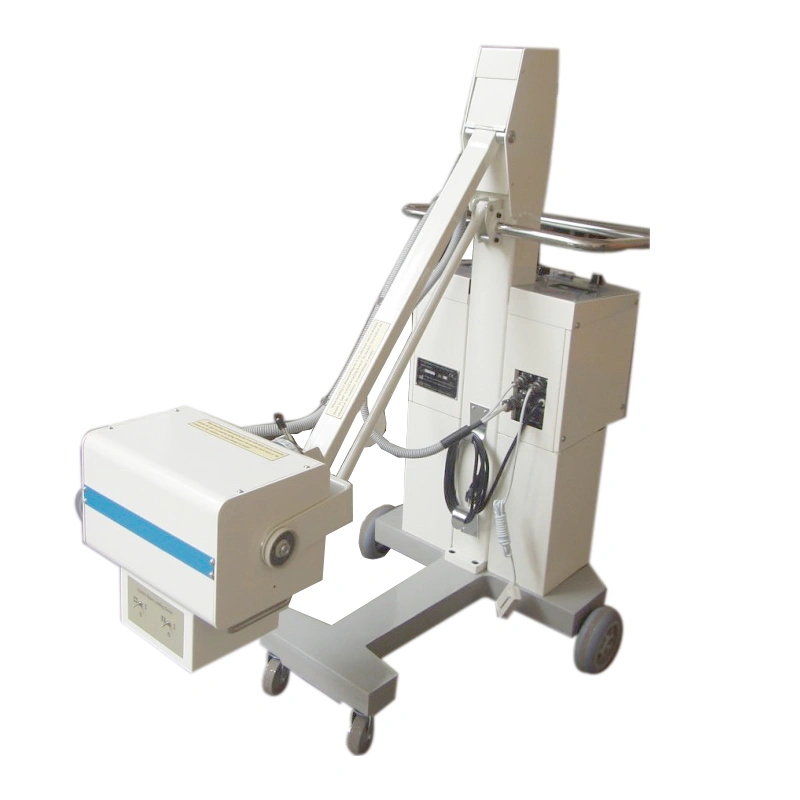 Specification of X-ray Machine
Main Technical Specifications

Power Supply

Voltage

Single Phase AC 180~250V

Frequency

50 Hz

Current (Max., instantaneous)

<24A

Power capacity

greater than 5kvA

Internal resistance of power supply wire ≤1Ω

Maximum rated capacity

Current(mA)

Voltage (kvp)

Exposure time(s)

30

90

0.063~5.0

40

90

0.063~3.2

80

0.063~4.0

50

90

0.063~1.0

80

0.063~3.2

Timer

0.08s to 6.3s, in 20 shifts, LED display

Max distance from tube focus




to the ground

≥1820 mm

Min distance from tube focus




to the ground

≤550 mm

Remote control exposure distance

≥ 6m

Max. exposure field

350×350 mm (when distance between X-ray tube focus




and film is 650 mm)

Max. exposure field

450×450 mm / when distance 1000mm

Specification of x ray tube

XD3-3.5/100, stationary anode, focus 2.6 x 2.6