Place of Origin:CN;GUA
Brand Name:maya
Properties:Medical X-ray Equipments & Accessories
Model Number:MY-D013
current:200ma
Tube currency:25mA,50mA,100mA~150,200mA
X-ray Tube:1*1mm2~2*2mm2
Moving up and down:700mm ~ 1900mm
Length*width*height:2000*760*680(mm)
Bulb tube moves up and down:1100mm~1760mm
Moving lengthways (along ground railway):1500mm
Moving crosswise (left & right):740mm
Item name:MY-D013 Factory price Hospital 200ma medical x-ray machine
port:Huangpu
MY-D013 Hot Sale Factory price Hospital 200ma medical x-ray machine with economical cost
Features of the x-ray machine:
Double diagnostic table and double X-ray tube with rotated anode.
KV,mA and a interlocking protection and radiograph time-limited protection devices are provided.
Filament for stabilizing voltage, space charge compensation and anode starting-up protection device are provided.
Voltage of power supply and kV with digital display can be adjusted constantly and respectively.
It becomes convenient to install without above-ground railway and be operated easily.
Electromagnetism are provided for pillar lengthways, crosswise, and sleeve moving up and down.
Technology Parameters of the x-ray machine:
Description

Technology Parameters

Power Supply

Voltage

A.C.380V / 220V (±10%)

Frequency

50Hz ± 1Hz

Capacity

20KVA

Power Supply Resistance

A.C.380V≤1.0Ω; A.C.220V≤0.3Ω

Maximum tube voltage

125KV

Maximum tube currency

200mA

Fluoroscopy

Tube voltage

40~110KV

Tube currency

0.5~5mA

Radiograph

Tube voltage

40~125KV

Tube currency

Small Focus: 25mA,50mA,100mA; Big Focus:150,200mA

Spot film

100mA (Small Focus)

Time

0.04~6.3s Divided into 23 grades from 0.04~6.3s

High Voltage Generator

Capacity

15KW

X-ray Tube

Model

XD 51—20,40 / 125

Focus

Small Focus 1×1mm2 Big Focus 2×2mm2

Rotated Speed of anode

2800r / min

Diagnostic Table

Scope of rotation

90°~ 0°~-5°

Mobile beam filtration device

Grid density N=28

Focus Distance f >1000mm

Grid Ratio r=8

Distance from surface to film

≤60mm

Stomach & Intestine Radiograph Device

Spot film device specification(Stomach & Intestine Radiograph)

127×178mm( 5''× 7'') binary picture

203×254mm( 8''×10'') binary picture

254×305mm(10''×12'') binary picture

Moving lengthways (along ground railway)

1500mm

Moving crosswise (left & right)

740mm

Moving up and down

700mm ~ 1900mm

Way of locking

Electromagnetism locking

Beam Limited Device

Manually single automatic multi-optional

Table for radiograph

Length×width×height

2000×760×680(mm)

Movable scope of the bed

Lengthways:±450mm;

Crossways:±110

Pillar moves lengthways

1000mm

Distance from surface to film

≤60mm

Bulb tube moves up and down

1100mm~1760mm

Radiography item

10''×12'' 11''×14'' 12''×15''
the detail pictures of x-ray machine: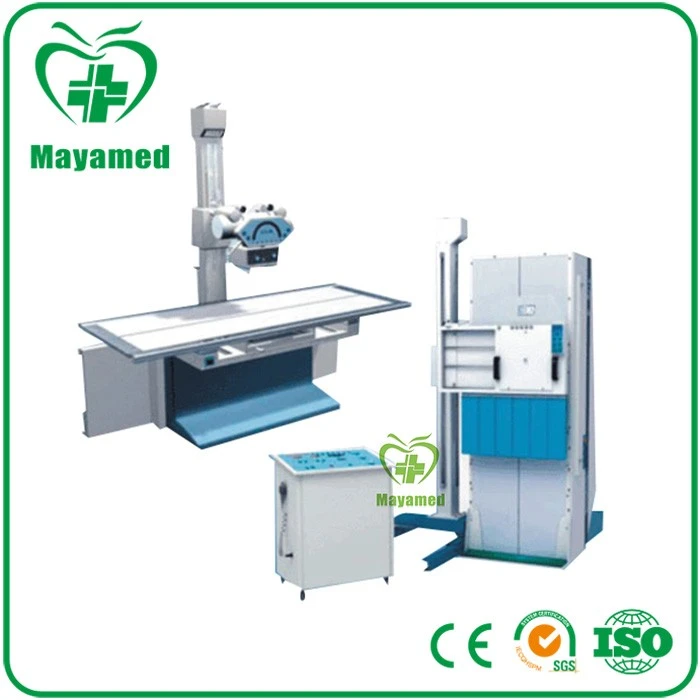 Other hot sale model of the x-ray machine:
MY-D011 200ma x-ray machine cost: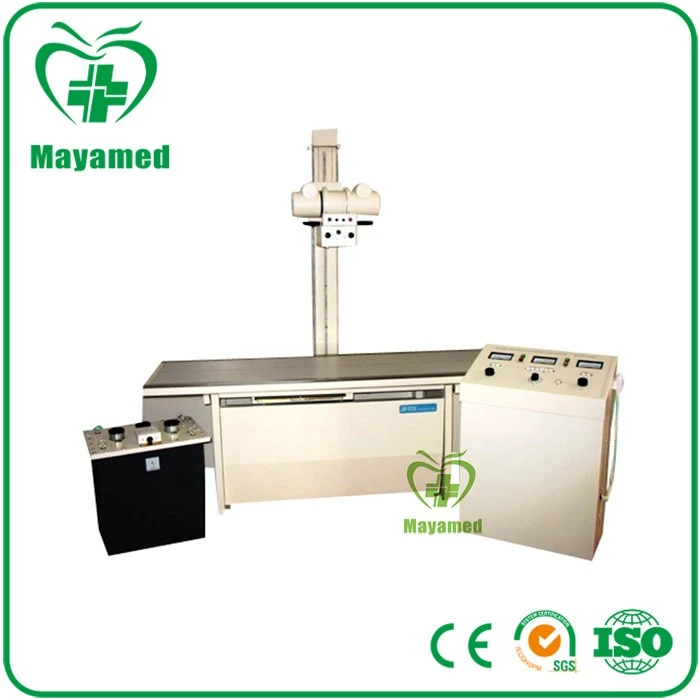 MY-D012 200ma x-ray machine cost: