Place of Origin:CN;GUA
Brand Name:MAYA
Properties:Medical X-ray Equipments & Accessories
Model Number:MY-D015
Color:White
Product name:MY-D015 hospital equipment double table 400ma x-ray equipment
Port:Huangpu
Type:X ray machine
Package:Wooden case
Voltage:380V±10%
Frequency:50Hz±1Hz
Capacity:≥30KVA
Focus:1*1, 2*2 double focal
Type of x-ray:XD51-20.40/125KV
MY-D015 hospital equipment double table 400ma x-ray equipment with good quality
specification of the 400ma x-ray equipment:
1) Double diagnostic table and double X-ray tube
2) Bigger scope of rotation diagnostic table
Features of the 400ma x-ray equipment:
1) Equipped with double diagnostic table and x-ray rubes, tube voltage is 125kV, tube currency is 400mA, single direct bridge full-wave commutation.
2) X-ray tube capacity protection, anode starting-up protection and radiograph time-limit protection device semi-conduct controlled, fluoroscopy computed time device, x-ray tube over-hot protecionare provided, ensure x-ray tube run safely long time, improve accuracy of kV mA S.
3) Bigger scope of rotation diagnostic table, movable table muli-item spot-film device, easy to operate, radiation –proof, ensure operate and the tested.
4) Radiography table can move lengthways and crossover, can loaded all kinds of radiography dark box, use conveniently and it is beautiful.
5) Applied in all kinds of hospital for radiography such as general body,beam filtration,and chest.
Technology parameters of the 400ma x-ray equipment:
Department

Technology parameters

High voltage generator control table and high voltage transform assemble

Fluoroscopy

Tube currency

0.3-5mA continuous currency

Tube voltage

45-110KV continuous voltage

Radiography

Tube currency

50-400mA shift

Tube voltage

45-125KV continuous voltage

Exposure time

0.03-5s,23 shift

Power

Voltage

380V±10%

Frequency

50Hz±1Hz

Capacity

≥30KVA

Inner resistance

≤0.45Ω

X-ray assembly

Type of x-ray

XD51-20.40/125KV

Focus

1×1.2×2 double focal

Rated rotate speed of anode

2800r/min

Changed beam limited device

Diagnosis table YS09D

Automatic, adjusted field of view

Radiograph table YS11S

Manually adjusted field of view, luminosity≥100LX

C15 Diagnostic table

Rotate of table

-15°~0°~90°automatic

Moving table

Automatic 700mm distance moving lengthways

Distance of focal table

400mm

High of table

820mm

Spot film device

Scope moving

Up and down

600mm

Left and right

±100mm

Forward and backward

300mm

Way of locking

Electromagnetism locking
CDGI

Multi function radiography table

Moving table

Lengthways

±600mm

Electromagnetism locking

Across

±120mm

Mobile beam filtration grid

Grid density

28L/cm

Grid ratio

8:1

Focusing distance

100cm

Scope of moving

≥600mm

Radiography item

5''×7'',8''×10'',10''×12'',11''×14'',

12''×15'',14''×14'',14''×17''

Distance from surface to film

75mm

Height of bed

700mm

Moving pillar

±180°,per 90°orientation, moving lengthways ≥1500mm

Bulb tube

Rotate the cross arm±180,ascend $ descend 1100mm
Option
LSJ pillar radiography frame

The scope of ascend and descend

1450mm

The minimum distance from focal spot

380mm

Fixed beam filtration role

Grid density

40L/cm

Grid radio

10:1

Focal distance

180cm
Picture of the 400ma x-ray equipment: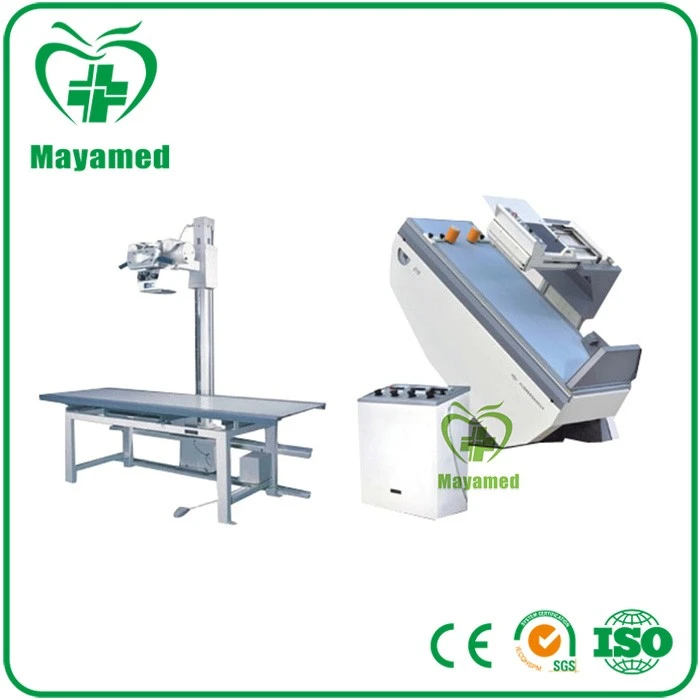 Delivery detail:
1.We ship the400max-ray equipmentbyDHL,air or sea toyou.
2.Our400max-ray equipmentwithstandard export packing, carton box or wooden case
3.No matter what delivery way ,alldepending on your actual requirements.
Our services:
1. For all your inquires about us or our400max-ray equipment, we will reply you in detail within 24 hours
2. We own professional team have professional attitude to recommend products and services, introducing the 400max-ray equipmentfor you.
3.The400max-ray equipmenthave one year free warranty, after it is still providing after-sales service;
4. We offer OEM services. Can print your own logo on the400max-ray equipment.
5. We have very experienced engineers ,can help you better usethe400max-ray equipment
orourotherproducts.