Properties:Medical X-ray Equipments & Accessories
Instrument classification:Class II
Warranty:1 Year
After-sale Service:Online technical support
Place of Origin:CN;GUA
Brand Name:MAYA
Model Number:MY-D020C
Power Output:3.5KW
Frequency:50KHz
X-Ray Tube:Fixed anode Focus : 1.5mm
Tube Voltage:40-110 KV (Step 1KV)
Tube Current:20-63 mA
mAs:1.0~125 mAs (43 steps)

Maya Medical have rich experience to build up the new hospital and new clinic , our one-stop service is your best choice !
We concentrate on African market and set up two branches in Nigeria and Madagascar. Meanwhile, we have already established after-sale service office in Lagos Nigeria, Islambad Pakistan and also Neirobi Kenya.
MY-D020C High frequency 63mA x ray system medical mobile x-ray machine
Application
The machine is Combined X-ray photography of medical diagnostic equipment, application for wards, emergency rooms, operating rooms, ICU, etc. It can be used for human body head, limbs, chest, waist and abdomen and many other parts.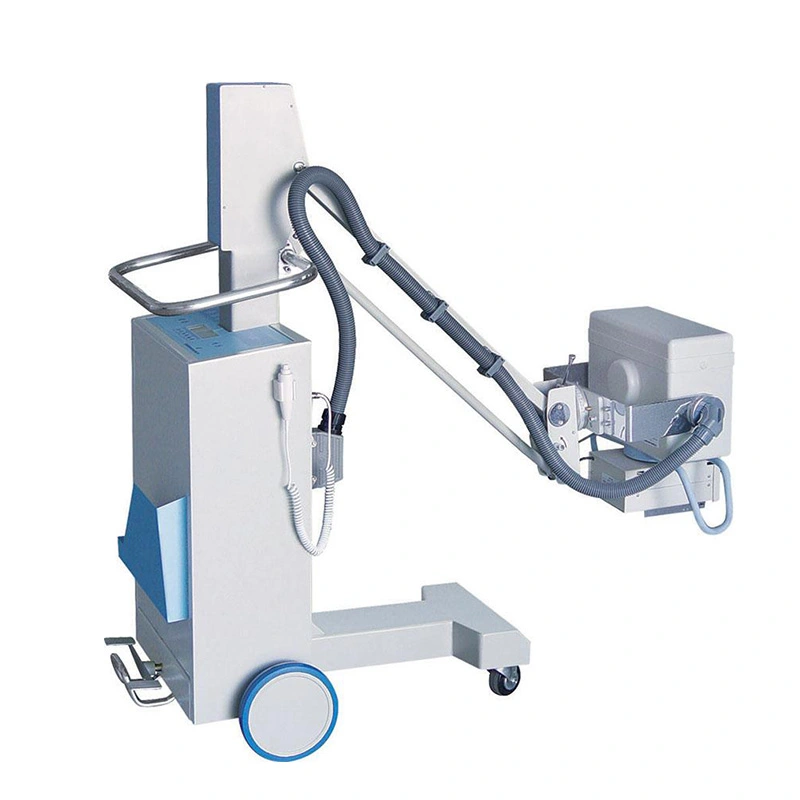 Specification of X-ray Machine
| | |
| --- | --- |
| Product Name | MY-D020C High frequency 63mA x ray system medical mobile x-ray machine |
| Model NO. | MY-D020C |
| Power Output | 3.5KW |
| Frequency | 50KHz |
| X-Ray Tube | Fixed anode focus : 1.5mm |
| Tube Voltage | 40-110 KV (Step 1KV) |
| Tube Current | 20-63 mA |
| mAs | 1.0~125 mAs (43 steps) |
Features
1. Structure using ergonomic design, compact appearance, convenient operation
2. With high frequency inverter to emit high quality X-ray and low dose on skin, and ensure excellent definition and contrast of pictures
3. With techniques of kV analog closed loop control, mAs digital closed loop control and micro-processing real-time control to ensure precision and repeatability of the dose
4. With kV, mAs two button adjustment, LCD display, multifunction of safety guard
5. With 50 preset exposure programs, and can be modified and stored by the user for convenient operation
6. High-quality knockdown X-ray generator to reduce irradiation is much safer to environment and operator
7. With a rotatable beam applicator to adjust the X ray field and a collimator lamp to locate the field to ensure accurate radiograph.
Standard Configuration
| | |
| --- | --- |
| Item | Quantity |
| Combined X-ray generator and high frequency inverted power supply | 1 |
| New main frame of Mobile X-ray system | 1 |
| X-ray equipment control system | 1 |
| Rotatable adjustable collimator | 1 |
| Remote control | 1 |
Options
1. Table for Mobile X ray Equipment (2000×700×500mm, cassette movement: 1680mm)
2. Upright Bucky Stand