Place of Origin:CN;GUA
Instrument classification:Class II
Properties:CT
Brand Name:MAYA
Model Number:MY-D054
Product name:0.5T MRI machine
Certificate:CE ISO
MY-D054 Hospital Medical 0.5T MRI scanner/scan/machine equipment price for sale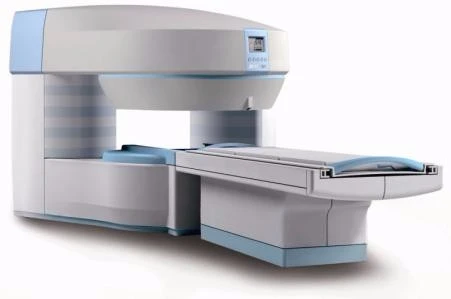 1. Excellent price performance ratio
Comprehensive application suite and powerful software included in standard configuration
2. Patient friendly appearance
Full open C-shaped magnet
3. Minimal sitting requirements
Less than 56 m² ;
4. Low operating Costs
Permanent magnet – no helium
5. Higher revenues
Attracted by more patients and referring physicians
6. Excellent Return On Investment
Decreased costs-optimized profitability
7. Efficient and Professional service team
24 hours service on-line
Next pages- detailed specifications
Specifications of 0.5T System
1.0 Magnet:
Operating Field Strength 0.50 Tesla 5000 Gauss
Magnet Type Open design permanent, eddy current free, self-constant temperature
Magnetic material Permanent Nd-Fe-B magnet
Dimension 2000x2200x2100mm
Net Weight 27,000KG
Homogeneity (400mm DSV) ≤ 2.5ppm (Vrms)
Shimming Passive shimming or active shimming
Patient aperture 400mm
2.0 Gradient System:
Gradient strengh max. 25mT/m (Gx/Gy/Gz)
Slew rate 75mT/M/ms (Gx/Gy/Gz)
Gradient lNon-linearity <5%(400mm×400mm×380mm)
3.0 RF System:
Central frequency DC~400MHz
Spectrometer Digital (Four channels)
Transmitting coil Flat planar coil
Receiving coils Phase array coil (Neck coil, Head coil, Large body coil, Small body coil, knee coil)
Optional coils Wrist coil, Shoulder coil , spine coil, breast coil, ankle coil, etc.
Max. receiver bandwidth 1.25Mhz
Power of transmitter amplifier 6KW
4.0 Computer System:
Operating system Windows2000/NT/XP
CPU 2.8GHz(Dual Core Processor)
Hard disk ≥250GB
RAM 2048MB (2GB)
Display Device ≥22'' TFT
Network & laser printer interface DICOM3.0
Software 0.5T Software
5.0 Auto Pre- scan
6.0 Pulse Sequence:
Standard IR
Spin Echo ( SE 2D/3D)
Multi-slice multi-echo (MSME)
Gradient Echo (GRE 2D/3D)
Steady state process gradient echo( SSPGRE)
Fast spin echo (FSE)
Single shot fast spin echo(SSFSE)
Multi shot fast spin echo (MSFSE)
Inversion recovery (IR)
Inversion recovery fast spin echo (IRFSE)
Short time inversion recovery (STIR)
Fluid attenuated inversion recovery ( FLAIR)
MRM, MRU, MRCP
TOF 2D/3D MRA
Diffusion weighted imaging (DWI)
Echo planar imaging(EPI)
7.0 Scanning Parameter:
Acquisition matrix 64/128/256/512
Resolution 1mm(head 24cm FOV 256X256)
1.5MM(body 30cm FOV 256X256)
0.5mm(head 24cm FOV 512X512)
0.75mm( body 30cm FOV 512X512)
Maximum display matrix 1024x1024
FOV 20 ~ 400mm
Slide thickness (2D)Min.1mm(1mm increment), (3D)Min. 0.5mm
Slide Orientation Sagittal, coronal, transversal, any angle any oblique
Image Type:
T1 Weighted imaging , T2 weighted imaging ,T2* weighted imaging , proton density imaging;Water Suppressed Imange,Fat Suppressed Image, MRM, MRU,MRCP; Magnetic Resonance angiography (MRA), Diffusion Weighted Imaging (DWI)
8.0 Patient Table:
Max. Patient load about 240kg;
Available with laser light localizer for patient positioning
Longitudinal travel range: ≥1650mm
Intercommunication between patient and operator: available
9.0 Power Supply
3N---380V 50Hz 15KVA
10.0 Typical Layout:
Magnet Room About 36 Square meters(6m×6m);
Equipment Room About 16 Square meters(4m×4m);
Control Room About 4 Square meters(2m×2m);
Total MRI-System area About 56 Square meters.