Properties:Medical X-ray Equipments & Accessories
Instrument classification:Class II
Warranty:1 Year
After-sale Service:Online technical support
Model Number:MY-D056
Brand Name:MAYA
Place of Origin:CN;GUA
Type:Medical digital 1500L Wired DR Flat Panel X-ray Detector
Fluorescent material:Direct-growth CsI
Area of pixels:433.7x354.8 mm2
Pixel array:2816x2304
Pixel size:154mm
Analog-to-digital conversion:16 bits
Size:460x384x16.45 mm3
Dynamic range:>83dB
Readout time of image:2 ~ 3 sec
Weight:3.2 kg
MY-D056 14*17 or 17*17 inch medical digital 1500L Wired DR Flat Panel X-ray Detector
Technical Note of 1500L Wired Flat Panel System
1500L is a wired and digital X-ray imaging system based on the size of cassette. With the initiatively detecting X-ray technology, it can produce digital images when X-ray radiates the plate. It is convenient, portable, feedback sensitively, and can show previews of post-acquisition images on the workstation in time and send images to the PACS system of hospital rapidly, and all of which allow doctors make a diagnosis in time.
Fluorescent material: direct-growth CsI
Area of pixels: 433.7×354.8 mm2
Pixel array: 2816 × 2304
Pixel size: 154mm
MTF :>70% 1 lp/mm
>45% 2 lp/mm
>25% 3 lp/mm
DQE :
@10mGr dose)~ 65%
0 lp/mm~ 25%3 lp/mm
Sensitivity: 0.60 ct/nGy
Nonlinear responses: < ±1%
Maximal linear dose: 100Gy
Afterimage:< 0.2% after 60 seconds
Noise equivalent dose: ~7 nGy
Dynamic range: >83dB
Analog-to-digital conversion: 16 bits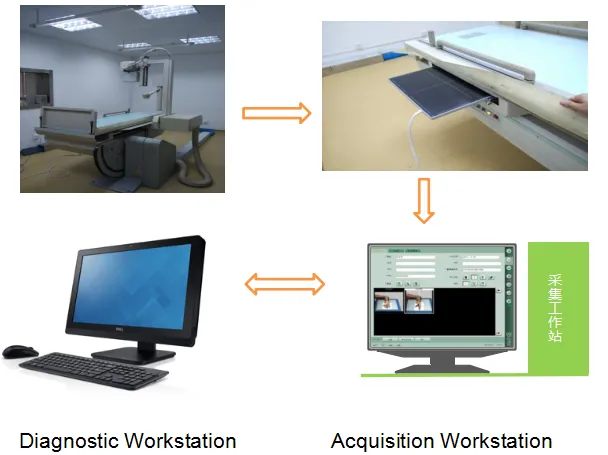 Application
Digital X-ray imaging system has been used in all levels' hospitals globally for more than fifteen years. DR also changes with the continuous upgrade of flat-panel technology. Initially, DR was fixedly used in the radiology department, which required special techniques to cool the flat. With the development of wired portable technology, DR plates can be flexibly used in the upper chest rack, flat beds, mobile X-ray machine, vehicle and gastrointestinal X-ray machine. Various applications of 1500L are listed in the following figures.