Place of Origin:CN;GUA
Model Number:MY-G060F
Brand Name:MAYA
Type:Clinical Examination Aids
Product type:Near-infrared light
Infrared wavelengths:850 nm
Best projection distance:200±20mm
Battery working time:5 hours
Dimension:240*60*60mm(LxWxH)
Operating Mode:handheld or suspension
Certificate:CE ISO
MOQ:1
Support:mobile support or fixed support
Keyword:vein finder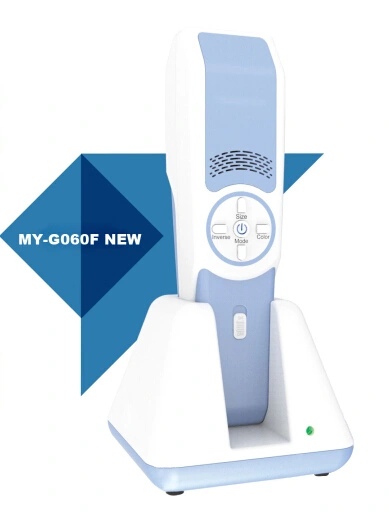 It provides a real time accurate image of the patient's superficial vein pattern on the skin of patient.
Principle:
Vein Finder projects near-infrared (no radiation) light which is absorbed by blood and reflected by surrounding tissue, and this information is captured and processed, finally projected in real time directly on the surface of the skin.
Main Unit Parameter:
| | |
| --- | --- |
| Light Type | Near-infrared light |
| Infrared Wavelengths | 850 nm |
| Best Projection Distance | 200±20mm |
| Dimension | 240x60x60mm (LxWxH) |
| Battery Working Time | 5 hours |
| Operating Mode | Handheld or suspension |
MY-G060F NEW
handheld model vein finder includes main unit and charging cradle,Fixed supportormobile supportisoptional.
Visualization Modes:
Color: 5 colors adjustable, for different patient complexions and personal preferences.
Inverse: Allows clinicians to highlight the veins or highlight the surrounding tissue; for reducing the interference of complexions, density of hairfollicles and room brightness.
Brightness: 3 degree brightness adjustable, allowing clinicians customizing the image brightness base on the environment light.
Size: 3 kinds of image sizes, for pediatric patients or the situation only needs to focus on one vessel.
Enhanced Mode: Helpful for finding the smaller or deeper veins.