Place of Origin:CN
Model Number:MY-H005F
Brand Name:MAYA
Type:ECG Machine
Name:7 inch touch screen ECG machine
Machine Dimension:285(W)*200(D)*55mm(H)
Machine weight:2.1 kg
MY-H005F medical portable 7 inch touch screen ECG machine( 3 channel )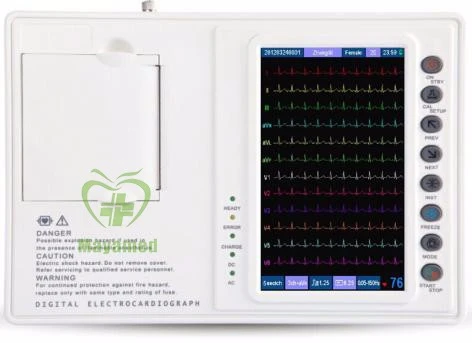 Lead  12 leads,Standard or Cabrera, 12 leads simultaneously acquisition
Input circuit  Floating,Defibrillation protection
LCD display  800*480  7 inch touchscreen LCD display ECG waveform, operation conditions,Time,Heart-rate,etc, support patient name,Age,Sex and Hospital name input(Optional)
Safety  IEC class I, type CF
Sampling rate  8000 samples/Sec
Input dynamics   ±500mV
Operation Mode  "automatic,manual,single channel 60s compressed record,Rhythm analysis (R-R histogram and trend chart)
"
Filter  AC(50Hz or 60Hz, -20dB)
  EMG (25Hz/35Hz/45Hz/75Hz/100Hz,-3dB)
  Drift (0.5Hz,-3dB)
CMRR  >100dB(with AC filter)
Input circuit current  ≤0.1μA
Input Impedance  ≥50Mohm
Time constant  ≥ 3.2 Sec
Frequency Response  0.05--150Hz,-3dB
Noise Level  ≤15μVp-p
Sensitivity  1.25; 2.5; 5; 10;20; 40mm/mV±2%
Calibration Voltage  1mV±2%
Patient Current Leakage  <10uA
Protection  Protect from defibrillation and pace-making
Printing system  Thermal printer; ≥8dot/mm(Vertical), ≥40 dot/mm (Horizontal),printing speed at 25mm/s
Printing  Speed  5; 6.25; 10; 12.5; 25; 50mm/s±3%
Printing Output  3/2 channel; 3/2+1 channel; 3/3channel; 3/3+1 channel
Paper size  80mm*20m roll type or Z-fold thermal paper
Patient Cable  standard 10 core
Report storage  200 reports in built-in memory, support external SD card
  report presentation,review and re-printing.
Indicator  Lead-off detectoin
Power Supply  12.6V 1500mA Li-poly rechargeable battery pack (DC)
  220V±10%, 50Hz±2%, 75VA  (AC)
Fuse Specification  2Φ5x20mm 3.15A 250V
Machine Dimension  285(W)*200(D)*55mm(H)
Machine weight  2.1 kg (machine only)
Gross weight  3.8 kg  (with accessories)
Carton size  41*32*24cm(1pc), 67*44*51cm(4pcs/carton)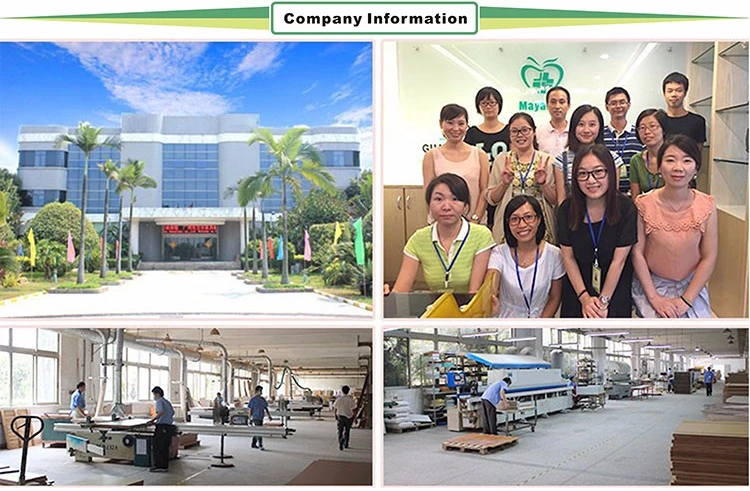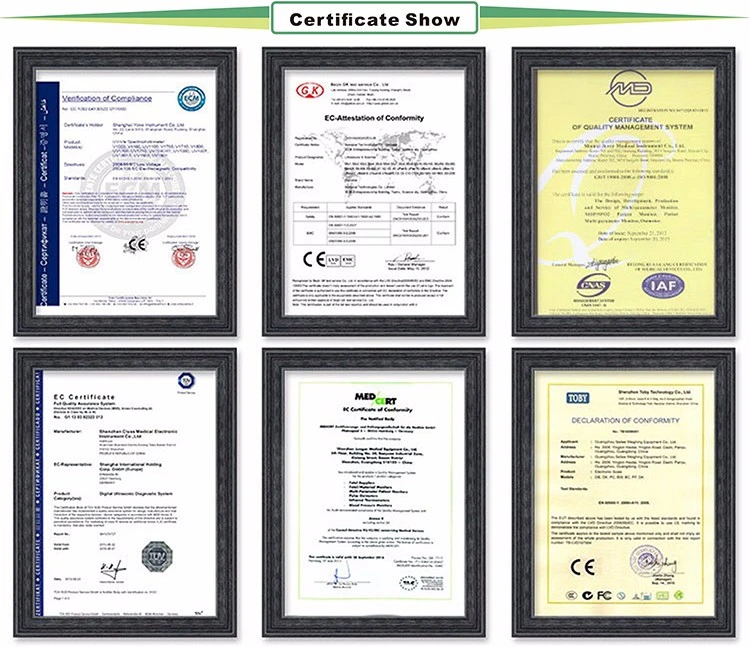 Our services: 
1. For all your inquires about us or our products, we will reply you in detail within 24 hours
2. We own professional team have professional attitude to recommend products and services, introducing the products for you.
3. Ourproducts  have one year free warranty,  and it is still providing after-sales service.
4. We offer OEM services. Can print your own logo on the products .
5. We have very experienced engineers ,can help you better use the productsour other products.
1.How to buy your products ?Do you have distributor in our country?
You can buy the products from our company directly.Normally the procedure is:Sign the contact ,payment  byT/T, contact the shipping company to delivery the goods to your country.
2. What is the warranty?
The free warranty is one year from the day of Commissioning qualified.
3.Can we visit your country ?
Of course,we will prepare for everything in advance if it is necessary .Generally,it is require that customers must have build agency relationship or business relationship with our company.
4.How long is the validity of quotation?
Generally,our price is valid within one month from the date of quotation .The price will be adjusted appropriately according to the price fluctuation of raw material and changes in market .
5.Do you have the CE certificate ?
Yes, most of our products have the CE certificate.