MY-H011F 64 channel Electroencephalogram Non-sterile reusable EEG headset sensor cap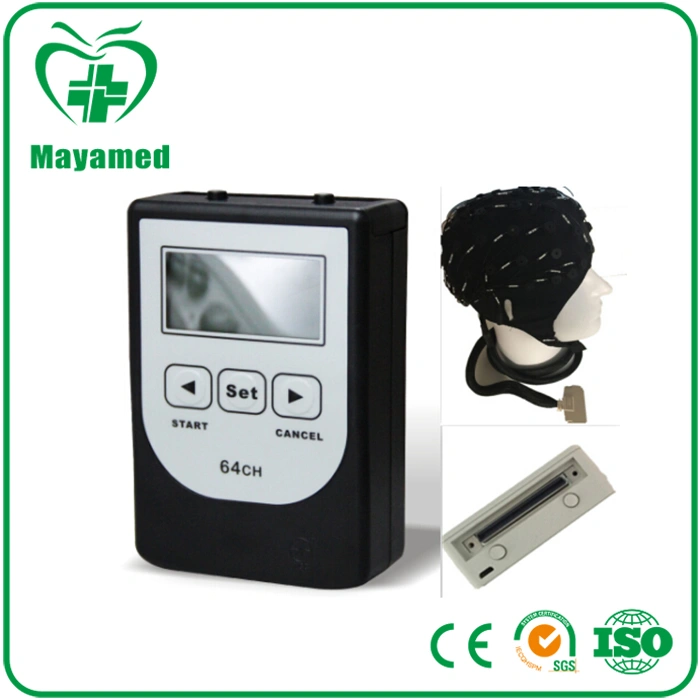 Technical specifications:
1.Input impedance ≥1000MΩ;
2.Noise level <0.4μV (rms);
3.CMRR ≥110dB
4.Resistance polarization voltage ± 300mV;
5.Frequency characteristics: 0.5Hz ~ 10KHz. Error of +5% ~ -30%;
6.Channel Configuration: 64 channel EEG, where 8 channels custom functionality: EMG, ECG, Eye movement etc;
7.Sampling frequency: 128Hz, 256Hz, 512Hz, 1KHz, 2KHz, 4 KHz, 8KHz;
8.Precision sampling resolution: 16/24 bit;
9.Digital low-pass filter control: 15Hz, 30Hz, 40Hz, 60Hz, 120Hz, 250Hz, 1KHz, 3KHz etc;
10.Digital time constant control: 0.01s, 0.02s, 0.03s, 0.1s, 0.2s, 0.3s, 1s, 2s, 3s, etc.;
11.Digital zoom (from 1 to 10000 times).
Functional requirements:
Hardware components:
1.16~64 channel include normal EEG channel, several multifunction channel for option, which can realize cential lead, sphenoidal electrode function, user can choose any configuration;
2.adopt wireless WIFI remote inspection, wireless transmission between patient and holter, free movement allowed when operating inspection, more convenient, easy to relax which good for inspection and good for ptient who can't cooperate;
3.EEG amplifier adopt direnct current to isolate AC intereference and improve capability of anteinterference effectively.the device doesn't need ground cable and shielding, which may meed differnt demand of exam environment;
4.possess scalp impedence inspection function, doctor can observe the indication light change of impedence test on the amplifier to check if the patient ware electrode correctly without enter into software;
5.possess realtime energy spectrum quantitative analysis function which include energy curve, relative energy, peak value frequency, energy peak frequency, middle frequency index, side requency index and so on, by quantifying data to reflect patient's brain function situation, the doctor can know the brain activity without checking waveform;
6.All-in-one electrode cables that make the connection easier;
7.possess realtime coma index display function, by which the medical staff and know the coma depth at the first time easily and fast;
8.WIFI2.4GHz transmitting technology,transmited velocity≥1000Mb/s;
9.Compact design and easy to carry, complete with EEG signal isolation to support maximum patient movement without distortion;
10.Optional video system for recording, editing and displaying video images synchronously with EEG signals.
Software components:
Acquisition & Settings
11.Colors of waveforms are in accord to colors of events, and users can mark on the waveforms with character directly; it's available to open respiration leading sound to instruct patient's respiration frequency in a deep respiration event;
12.EEG channels can be arbitrarily set up for users to customize the layout of channels during collection process and playback analysis. This includes the choice of processing EEG waveforms with filters, baseline and other arbitrary parameters;
13.Configuration chart display and data source of physical channel configuration are displayed together at the same interface, making channel editing simpler and more intuitive;
14.Events markers enable user to mark timings of seizures or any abnormal wave occurrences during recording, whereby events marked are listed and can be traced with the event localization feature during playback;
15.Same-screen, and real-time display brain tendency chart is in synchronism with EEG waveforms acquisition. Brain tendency chart include various energy curve maps: energy curve, peak value frequency, relative energy, absolute energy, energy peak frequency, medium frequency index, side frequency index and coma index.
Replay & Analysis
16.EEG mapping;
17.EEG tendency analysis;
18.EEG spectral analysis;
19.Brain waves fast playback and fast positioning function;
20.Automatic spike recognition with adjustable arbitrary spike-wave parameters;
21.User can list the events marked during replay and locate each of the event markers in the waveform. User can add, change or remove event markers based on manual observation made during recording;
22.User can also review the EEG waveforms with a different combination of parameters and filters;
23.Automatically generates EEG case reports with customizable print templates.
Optional Parts:
1.Video System
*Supported BUS Interface of video card: PCI
*Power supply: AC240V 50/60Hz 2A
*PAN/TILT Turn speed: 0.5°~30°/s
*Night-vision survey with IR-illumination: Supported
*Maximum picture resolution: 640×480
*Video camera with remote control: By software.
2. Photic Stimulator:
Stimulation Frequency: 1-30Hz
General Specifications:
1.Dimension and Weight:
EEG main parts with standard accessories: 1 carton; 370*260*225(mm); Charge weight: 6kg
Pentagonal stand with Photic stimulator (Optional): 2 cartons; 490*470*230mm,110*55*930mm; Charge weight: 25kg
Video system (optional): 1 carton; 450*300*300(mm); Charge weight: 7kg
2.Environment:
Temperature: ±10°C ~+50°C
Relative humidity: 30%~80%
Power supply: AC100—240V (Host computer syste