Certificate:CE ISO
Properties:The Basis of Surgical Instruments
Type:Knife
Instrument classification:Class II
Warranty:1 Year
After-sale Service:Online technical support
Place of Origin:CN;GUA
Model Number:MY-I044I
Brand Name:MAYA
MY-I044I medical Electrosurgical Unit with Ligasure for general surgery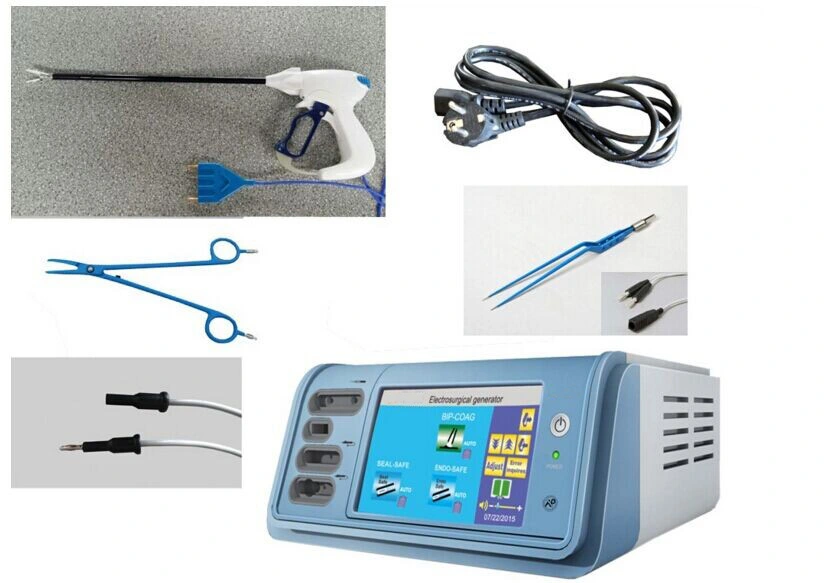 electrosurgical unit with vessel sealing for ligasure/diathermy machine
Electrosurgical Generator ,with isolated output design, it provides proper power output for cutting and coagulating tissue in both Mono-polar and Bipolar surgeries. It can be widely used in many surgical operations. Adopting single-chip microcomputer control technology and modular design, it features simple design, convenient and easy maintenance, powerful functions, stable performance and easy operation, and it is equipped with versatile jacks for accessories.
Product feature
Improved performance at lower power settings minimizes the risk of tissue damage and neuromuscular stimulation easy to use ,cost effective system when performance is required and price is of equal concern.
Two cut modes :offer surgeons a variety of choices:
Pure cut for a clean, precise cut
Blend for cutting with hemostasis
Two coag modes
Fulgurate for lower voltage coagulation requirements
Spray for coagulationg large tissue areas with superfical of necrosis
Standard bipolar mode
Standard mode utilized low voltage to prevent sparking
VERSATILE SYSTEM THAT IS UNIQUELY COMPATIBLE WITH OTHER, INCLUDING
TUR under water cut (endo cut socket)
HV argon congulation system
Optimum Smoke Evacuation System-Clean air in the operation theatre
Applicable range
Applicable for general surgery, thoracic surgery , orthopedics, obstetrics and gynecology, urologic surgery, cerebral surgery, microsurgery, ENT surgery and etc.