Place of Origin:CN;GUA
Type:Knife
Brand Name:MAYA
Properties:The Basis of Surgical Instruments
Model Number:MY-I045
name:MY-I045 medical HF portable electrosurgical generator with CE
power:220V±22V 50Hz
Power consumption:1400VA
Frequency:530KHz
adjust: Automatic adjustment of power
test:Fault self-test
mode: Monopolar and bipolar plate automatically recognition
power adjust: 1W to 300W
Dimensions:350(L)*320(W)*110(H) MM
feature:portable electrosurgical generator
MY-I045 medical HF portable electrosurgical generator/diathemy machine price with CE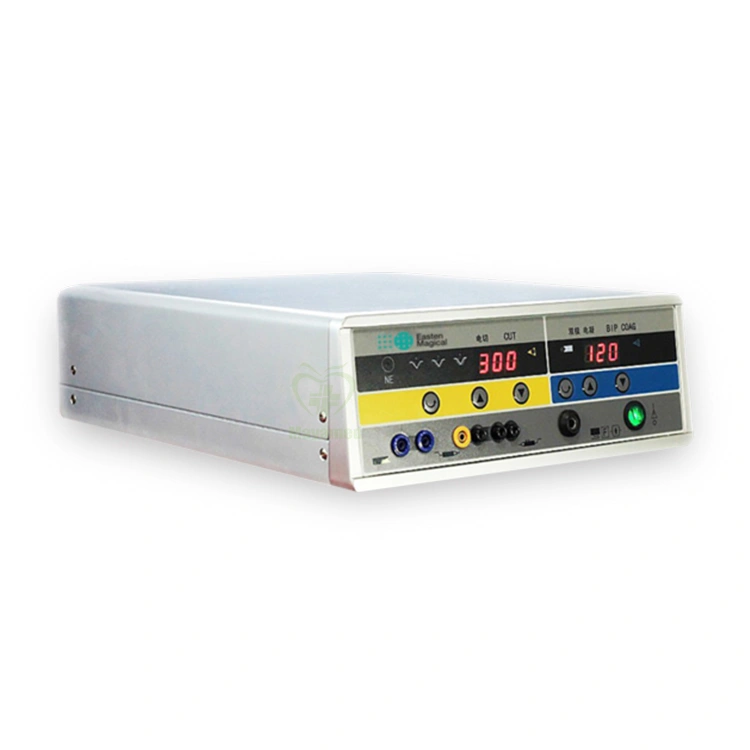 Attention:if you want to have detailed parameter, please read the instruction book carefully.
Pure Blend1 Blend2 Coag1 Bipolar coag
Output power 300W 250W 200W 120W 50W
Max Open-Circuit Voltage 1500V 2000V 2500V 4500V 620V
0echnical Specifi cation
Power:220V±22V 50Hz
Power consumption:1400VA
Frequency:530KHz
N.W:7Kg
G.W:7.5 kg
Dimensions:350(L) ×320(W) ×110(H) MM
Packing size:
Features
* Automatic adjustment of power
* Fault self-test
* Monopolar and bipolar plate automatically recognition: the model can use monopolar and bipolar pole circuit boards, and can automatically recognition, when use bipolar-loop eletrode palte, such as palte contate area less than 60%, high freququency surgical equipment will automatically stop the output and sound and light alarm, until the contact area back to normal, thus effectively avoidingthe burn patient's medical electrode.
* Connection endoscopy: the high frequency surgical equipment is accurate from 1W to 300W power continuously adjustable, set the L key to control power, may provide a laparoscopy, hysteroscopy, gastroscopy, colonoscopy and other power cut, power Coag the power source.