MY-M057 Mini Dental water distiller Pure Water for dental use / Water distillator(4L)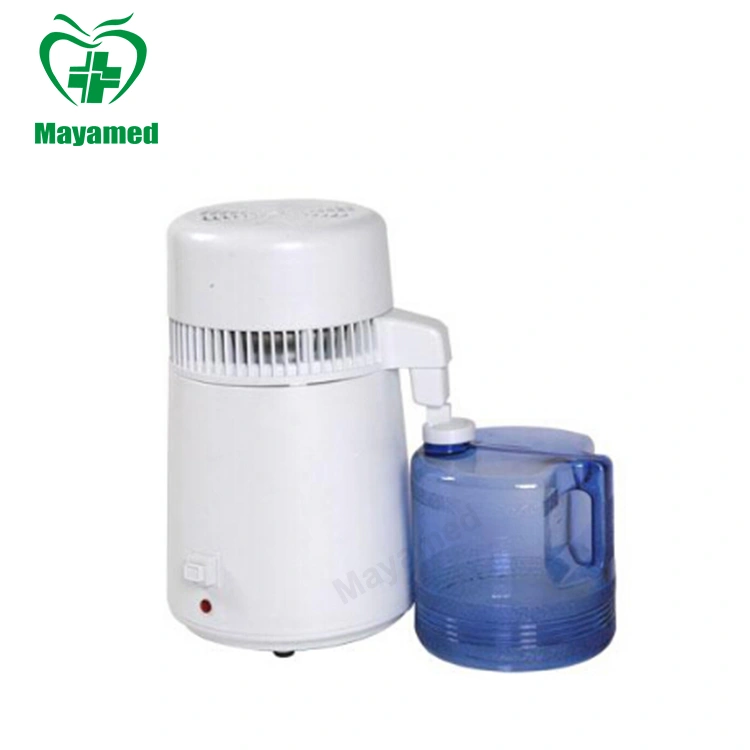 Features:
4L Distiller Pure Water Purifier Filter 
CE Certification
Easy to operate, no installation required
Produces water of the safest and cleanest condition Seamless round shaped exterior
Durable, yet lightweight and compact enough to travel with
Effectively removes most tap water impurities
Introduction
This item is suit for hospital, clinique, home, office, laboratory, travel and so on.Autoclave must adopt distilled water as operation medium.Even purified water has various minerals and can produce furring scale after evaporation at hightemperature,which,after a period of time,can lead to leaking of steam due to improper closure.It can also lead to the clog in the narrow pipes and pressure sensor,to the malfunction of temperature sensor and to other failures.Once the furring scale enters hand piece and axis. lowering the turning speed of hand piece,thus reading its life span. Therefore ,using distilled water is necessary. But since all the teratology clinics are located far from each other. It is difficult for them to buy distilled water. Now with this Water Distilled Machine Provided, you have a reliable source of high quality distilled water as long as you input pipe water.
Specifications:
1. Rolled sheet types: >400
2. Discharge tube made of stainless steel: 316L
3. Inner container: stainless steel 304
4. Electronic heater pipe: aluminum
5. Water bottle: PC (246 deg.C)
6. Over-temperature safety: power-off when temperature is 160 deg.C
7. Inner container volume: 4L
8. Voltage:110-220V-240V, 50/60Hz
9. Power:750W
10. Distiller water capacity:1L/H
11. Inside dimensions:18mm*20mm 
12. Outside dimensions:285*285*510mm

Content:
1x Distiller
1x Water Bottle
1x Discharge cap
1x Bottle cap
1x Plastic Filter
1x Main Power Wire User Manual