MY-O005 Professional Medical dialysis machine Blood Pump for Hemodialysis Machine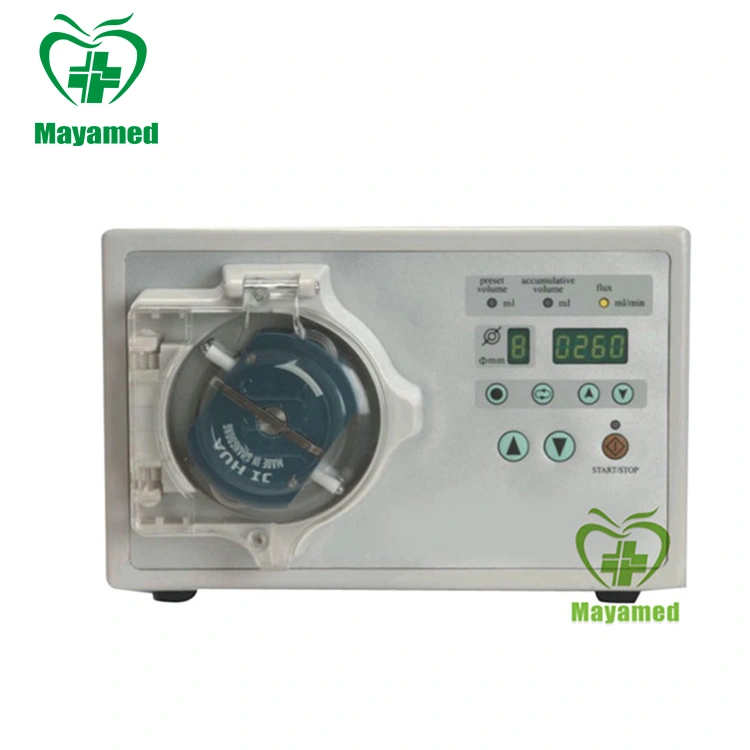 * Volume (length× width ×height):
    ·370mm×340mm ×1570mm
* Weight: about 90kg
* Power supply voltage: AC220V±10%
    ·Frequency: 50HZ ~ 60 HZ
    ·Power: 1500W
* Blood pump:
    ·Flux: 20 ~ 620 ml/min 
* Heparin pump:
    ·Flux: 0.1ml/h~10ml/h(±5%)   
    ·Precise: 0.1ml/h
    ·Injector size:   10ml/20ml/30ml
                            (selectable)
* Arterial pressure:
   ·display scope:-300mmHg~+400mmHg
                           (±10mmHg)
* Venous pressure:
   ·display scope:-50mmHg~+300mmHg
                           (±10mmHg)
* Dialysate flow:
    ·300ml/min~800ml/min linearity adjustable
                     (+10%)
   ·Temperature:35.0℃~39.0℃
   ·Resolving rate:0.1℃
   ·Conductivity:12.3mS/cm~15.8mS/cm
                       (±0.1 mS/cm)
* UF flow scope: 0~4000ml/h(optional)
* ISO UF flow scope:0~2000ml/h(±30ml/h)
* TMP
   ·Scope:-100mmHg~+600mmHg
                   (±20mmHg)
* Blood leakage monitor:
     over 1ml blood per liter dialysate
             (flow:500ml/min)
* Blood level monitor: ultrasonic sensor
* Air bubble monitor:
     Infrared and response threshold value:
     Single air bubble of 200um exists when
      Blood flux is 200ml/min
* Inflow pressure:0.1MPa~0.6MPa
* Inflow temperature: 5℃~30℃
* Environment temperature: 10℃~30℃,
    · Relative humidity≤70%
* Rinse/disinfection: chemical disinfection
    (citric acid,peracetic acid and oxalic acid)
* Hot rinse: 80℃
* Back-up power supply: last for 15-30min after electric-cut.
Our services: 
1. For all your inquires about us or our products, we will reply you in detail within 24 hours
2. We own professional team have professional attitude to recommend products and services, introducing the products for you.
3. Ourproducts  have one year free warranty,  and it is still providing after-sales service.
4. We offer OEM services. Can print your own logo on the products .
5. We have very experienced engineers ,can help you better use the productsour other products.
1.How to buy your products ?Do you have distributor in our country?
You can buy the products from our company directly.Normally the procedure is:Sign the contact ,payment  byT/T, contact the shipping company to delivery the goods to your country.
2. What is the warranty?
The free warranty is one year from the day of Commissioning qualified.
3.Can we visit your country ?
Of course,we will prepare for everything in advance if it is necessary .Generally,it is require that customers must have build agency relationship or business relationship with our company.
4.How long is the validity of quotation?
Generally,our price is valid within one month from the date of quotation .The price will be adjusted appropriately according to the price fluctuation of raw material and changes in market .
5.Do you have the CE certificate ?
Yes, most of our products have the CE certificate.