MY-W006 Animal Anesthesia Equipment veterinary anesthesia machine for Pet Clinic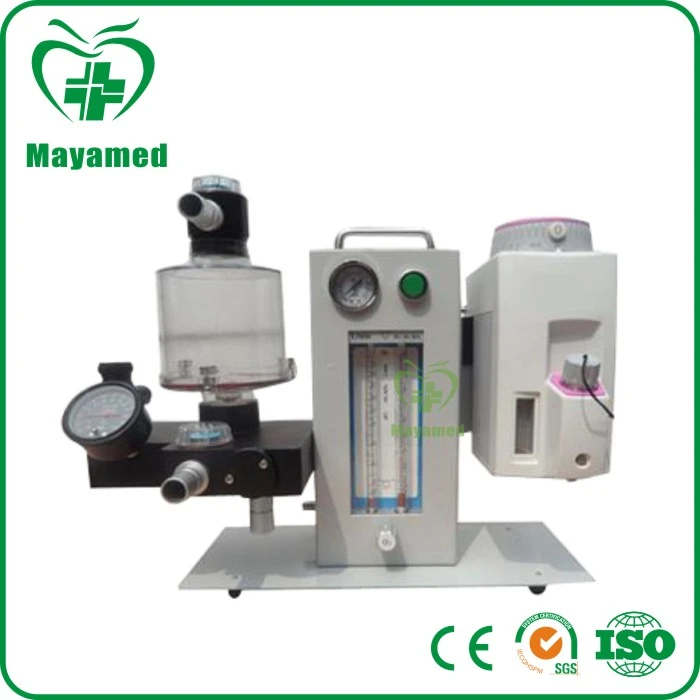 MY-W006 model is an excellent small vet anesthesia machine. It is a light, reliable and stable machine! It can be used for vet hospital, vet clinic, research institute, university and farmer department and so on.
The Technology Specification:
Inspiration mode: open mode, closed mode, semi-open and semi-closed mode
Gas source:O2,0.3--0.4Mpa
Gauge pressure of gas source: 0--1Mpa
O2 Flush valve:25L/min--75L/min
Flow meter: high precision O2 two tubes flow meter, 0--1L/min--10L/min, O2&Air two tubes flow meter is option.
CO2 circle absorber: with APL valve, airway pressure gauge, soda lime chamber, inspiration valve and expiration valve
APL valve:0--60cmH2O, adjust easily
Airway pressure gauge: 0--100cmH2O &0--10Kpa
Soda lime chamber:1Liter, it is easy to change soda lime
Bains connector: it is used for open breath circuit, connect with Jackson breath circuit or bains breath circuit.
Anesthesia vaporizer: TEC3 vaporizer. Enflurane, Isoflurane,Halothane,Sevoflurane, one vaporizer with selectatec compatiable mounting bar, Cage mounting vaporizer is compatiable.
A handle on the top
Trolley: It can be put on the trolley.
Standard  configuration:
Anesthesia machine, one unit vaporizer, one unit gas source pipeline, one set disposable breath circuit, one unit airbag. The trolley is option.
Our services: 
1. For all your inquires about us or our products, we willreplyyou in detail within24 hours.
2. We ownprofessional teamhave professional attitude to recommend products and services, introducing the products for you.
3.Our products have various type and function,We will recommend to you that according to your requirements;We offerOEM services; Can print your own logo on the products.
4. Our products haveone year free warranty, and it is still providingafter-sales service.
5. We have veryexperienced engineers, can help you better use our products.

Your satisfaction is our duty! It will be our great honor to serve you. We do hope we can offer you more help in medical field and build the long term business relationship with you.
1.How to buy your products ?Do you have distributor in our country?
You can buy the products from our company directly.Normally the procedure is:Sign the contact ,payment  byT/T, contact the shipping company to delivery the goods to your country.
2. What is the warranty?
The free warranty is one year from the day of Commissioning qualified.
3.Can we visit your country ?
Of course,we will prepare for everything in advance if it is necessary .Generally,it is require that customers must have build agency relationship or business relationship with our company.
4.How long is the validity of quotation?
Generally,our price is valid within one month from the date of quotation .The price will be adjusted appropriately according to the price fluctuation of raw material and changes in market .
5.Do you have the CE certificate ?
Yes, most of our products have the CE certificate.