Place of Origin:CN;GUA
Brand Name:MAYA
Model Number:MY-I059
Type:oxygen concentrator price
name:Medical electric oxygen concentrator
Continuous Working Time:10,000 hours
Max. Flow rate:8L/min;
Oxygen Density:90%
Running Noise:≤52dB (A)
Power consumption:≤480W
Low power consumption:0.3KW/h
weight:N.W.: 23.7 KGS G.W.: 26 KGS
size:46.5*37.5*71cm (1pc)
Max. Flow:5L/min

MY-I059 China Manufacturer medical equipment portable easy used 3L / 5L oxygen concentrator price
the picture of theMY-I059 China Manufacturer medical equipment portable easy used 3L / 5L oxygen concentrator price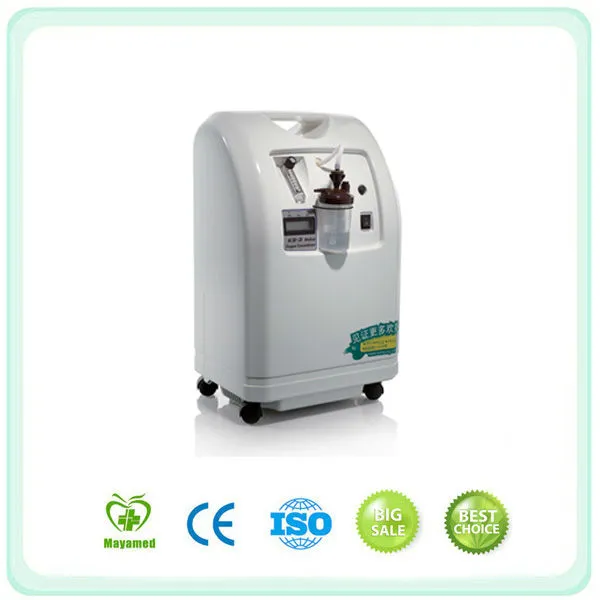 1. Working principles:
KS series ofmedical oxygen concentratoradopts the current world's
advanced transformation absorption (PSA) principle. It separate and filterthe
oxygen and nitrogen under common temperature and pressure, then obtain the
medical oxygen. It is consistent with the pharmaceutical industry standards (YY
0298-1998).
Pure physical manner of making oxygen, without any additives, no disposables,
pollution-free,fresh and natural.
2. Features:
a. It adopts PSA principle to obtain the oxygen by pure physical manner. It can
continuously produce oxygen in an efficient and safe manner.
b. American imported molecule sift helps produce pure oxygen.
c. High and low voltage alarming system
d. LED time counting system
e. Power off alarming system
f. Optional remote control, timing and oxygen nebulization,Oxygen density monitor
g. Low power consumption, 0.3KW/h.
h.Environmental Protective, without harmful byproducts
3. Specification:
Max. Flow: 5L/min; Oxygen density: 93±3% (V/V);
Running Noise: ≤52dB (A); Dimension: 390×310×640mm;
Power consumption: ≤480W; ContinuousWorking Time: 10,000 hours
Accessory: Nebulizing Kit(optional), an oxygen cannula(180cm), a humidifier, anti-dust
sponge(2pcs), filter sponge(2pcs), humidifier connection tube(1 pc, 10cm)
4. Application :
Suitable for oxygen therapy or oxygen healthcare in family or care room inhospital.
Packing:1pc/carton
Box size: 46.5*37.5*71cm (1pc)
N.W.: 23.7 KGS
G.W.: 26 KGS