Place of Origin:CN;GUA
Type:First-Aid Devices
Brand Name:MAYA
Model Number:MY-C003A
Name:MY-C003A 7 inch patient monitor
parameters:ECG, HP, RESP, SPO2, NIBP
display:7 inch high resolution color TFT LCD display.
Model Number::MA08
waveforms:Multi-lead ECG waveforms
battery:UP to 4 hours working capacity of built-in rechargeable battery.
usage:Suitable for adult,pediatrics and neonate patients.
function:Patient info input management function
capacity:Networking capacity.
feature:patient monitor
Factory Price Multi-Parameter Icu Portable Ambulance hospital patient monitor With Lcd Touch Screen

the picture of the MY-C003A ECG, HP, RESP, SPO2, NIBP 7 inch patient monitor for sale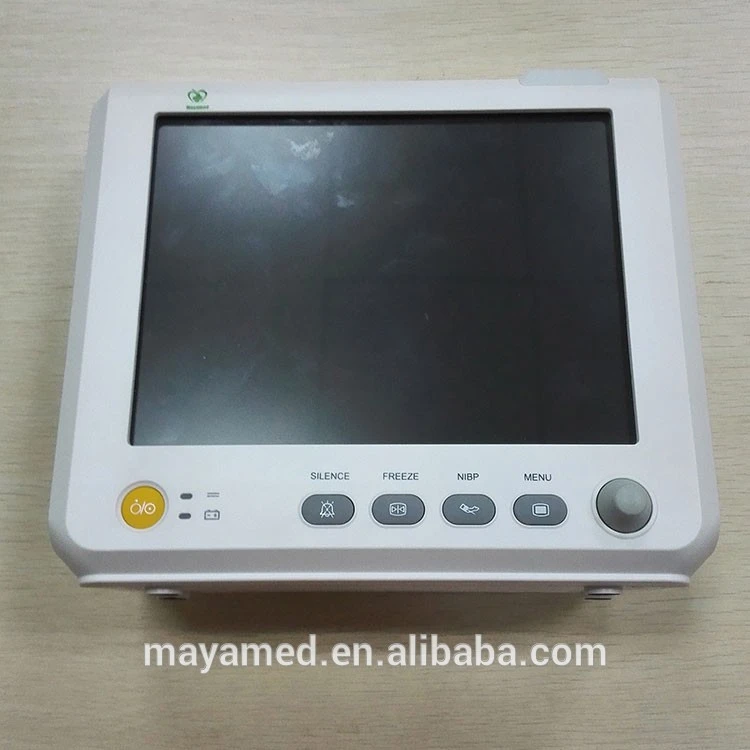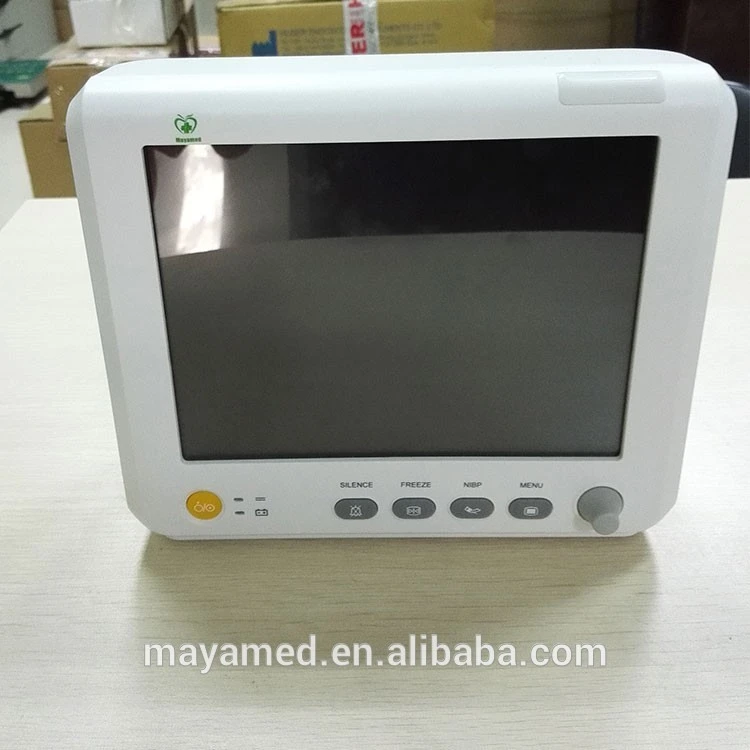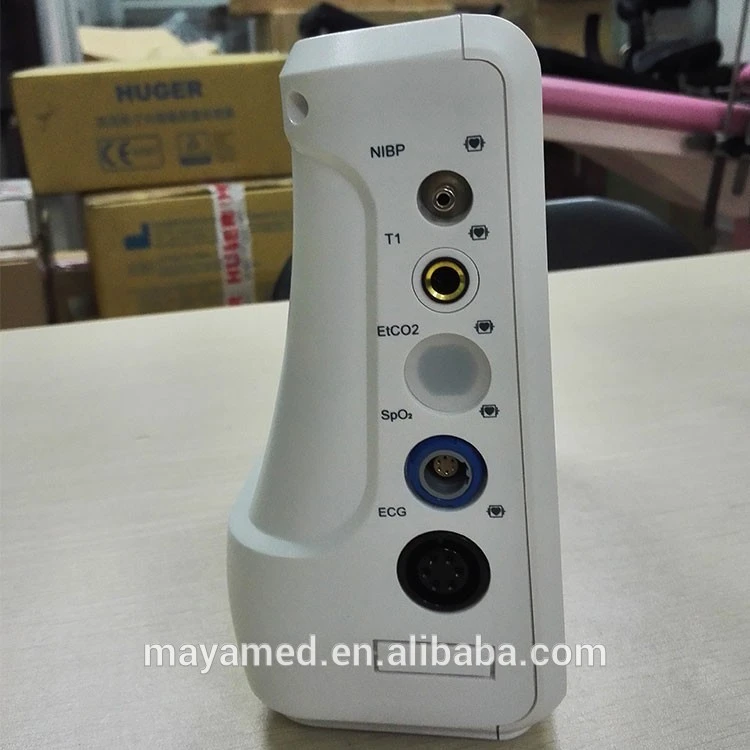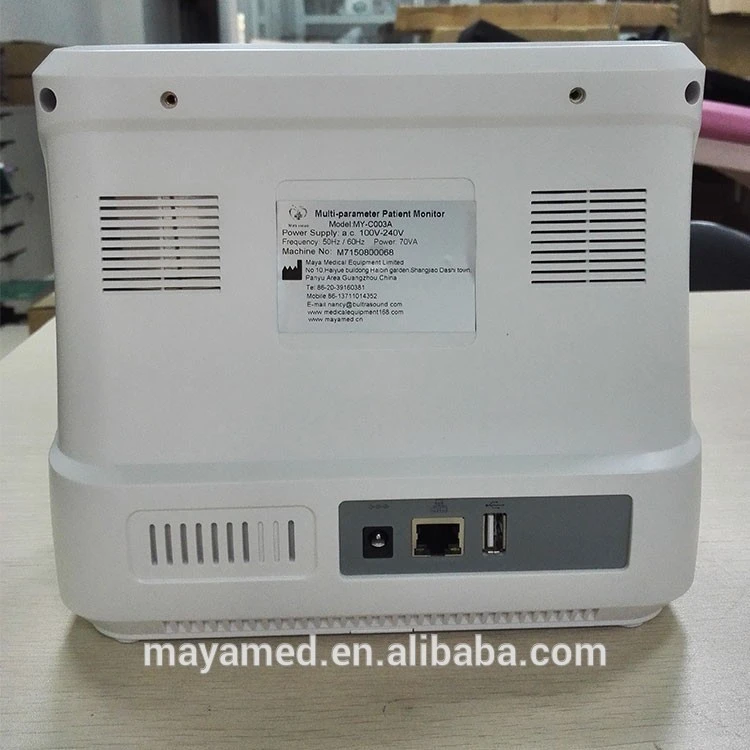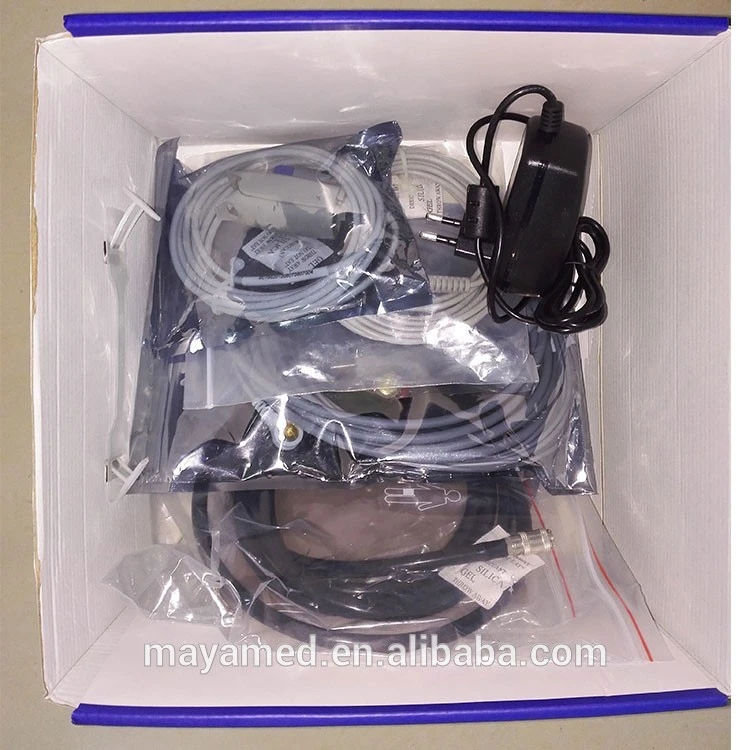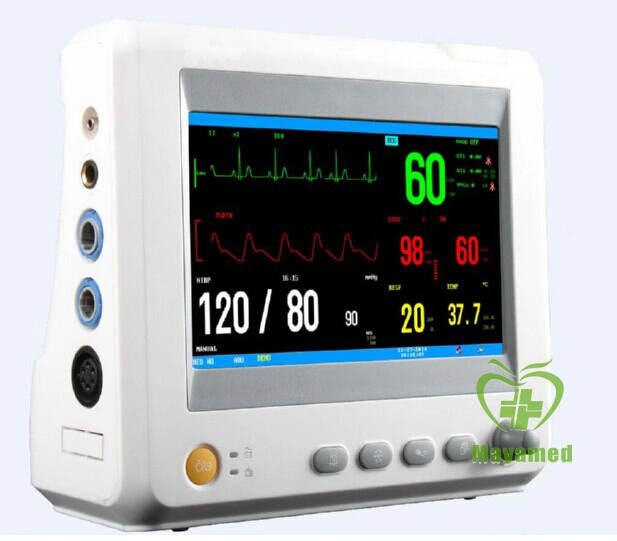 Features :
5 Standard parameters:ECG, HP, RESP, SPO2, NIBP
Built-in lithium battery: 2000mAH
7 inch high resolution color TFT LCD display.
Real time S-T segment analysis, pace-maker detection.
Indication of Incorrect manipulation and malfunction analysis.
Patient info input management function Multi-lead ECG waveforms display in phase.
Large volume of tabular and graphic trends information storage and easy to recall.
Capture dynamic waveforms.
Efficient resistance to interference of defibrillator and HF knife.
UP to 4 hours working capacity of built-in rechargeable battery.
Unique accessory management cabinet. Networking capacity.
Rechargeable Lithium battery
Suitable for adult,pediatrics and neonate patients.
Standard Configuration: ECG, HP, RESP, SPO2, NIBP
Optional: ETCO2 Thermal recorder Wall mount Trolley
the details:
RESP
Measuring Method
RA-LL impedance
RESP Impedance Measuring Range 0.3~3Ω
Base Impedance Range 200~4000Ω
Bandwidth 0.1~2.5Hz
RESP Rate Range
Adult 0~120BrPM
Children and neonatal baby 0~150 BrPM
Resolution 1 BrPM
Precision 2 BrPM
Asphyxia Alarm 10~40 seconds
NIBP
Measuring Method Pulse wave oscillometry
Work Mode Manual/Automatic/STAT
Measuring Interval of Automatic Measuring Mode
1,2,3,4,5,10,15,30,60,90,120,180,240,480 minute(s)
Measuring Time of STAT Mode 5 minutes
PR range 40 – 240 bpm
Measuring Range and Precision
Range
AdultSystolic blood pressure40~270mmHg
Diastolic blood pressure10~215mmHg
Mean blood pressure 20~235mmHg
Children Systolic blood pressure40~200mmHg
Diastolic blood pressure10~150mmHg
Mean blood pressure 20~165mmHg
Neonatal baby Systolic blood pressure40~135mmHg
Diastolic blood pressure10~100mmHg
Mean blood pressure 20~110mmHg
Static pressure range 0~300mmHg
Static pressure precision3mmHg
Pressure precision:Max. average error: 5mmHg;Max.
standard deviation: 8mmHg
Overvoltage protection
Adult mode 300 mmHg
Children mode 240 mmHg
Neonatal baby mode150 mmHg
SpO2
Range 0~100%
Resolution1%
Precision 70~100%:2 DIGIT 0%~69%:no definition given
PR
Range 20~300bpm
Resolution1bpm
Precision 3bpm
ECG
Lead configuration
Standard 3-lead or 5-lead
3-leadRA,LA,LL,Lead method:I,II,III
5-leadRA,LA,LL,RL,V,Lead method:I,II,III,aVR,aVL,aVF,V
Increase 250,500,1000,2000
HR Range
Adult 15 ~ 300bpm (beat/minute)
Neonatal baby/children 15 ~ 350 bpm(beat/minute)
Precision±1% or ±1bpm,the larger prevails
Resolution 1 bpm(beat/minute)
Sensitivity > 200 uV (Peak-to-peak value)
Input Impedance > 5 (megohm)
Bandwidth
Diagnostic mode0.05~130Hz
Monitoring Mode 0.5~40Hz
Operation mode1~20Hz
Common Mode rejection Ratio
Diagnostic mode> 90 dB
Monitoring Mode > 100 dB
Operation mode> 100 dB
Pole Polarization Vvoltage Range 300Mv
Pacing Pulse Test
Test pacing pulse in accordance with the following conditions:
Amplitude:±2 mV ~ ±700mV
Width: 0.1ms ~ 2ms
Risetime: 10us~100μs
Pacing pulse inhibition
When pacing analysis switch is on, pacing pulse in accordance with the
following conditions are restrained, but affection against HR calculation.
Amplitude:±2 mV ~ ±700mV
Width: 0.1ms ~ 2ms
Risetime: 10us ~ 100μs
Baseline Recovering Time
After defibrillation< 3 seconds
Signal Range 8 mV (Peak-to-peak value)
Calibrating Signal
1mV(Peak-to-peak value),precision5%
ST Segment Measuring Volume
Measuring range: -2.0mV ~ +2.0mV
Measuring precision: Ranging -0.8 mV~+0.8mV, measuring error is
±0.02mV or ±10%,.
The larger prevails.