The hospital respiratory monitor is a precision medical instrument used in hospitals, a dynamic and practical precision medical instrument that can simultaneously monitor patients. The equipment has functions such as collection and storage of ECG information, intelligent analysis, and early warning. And has the characteristics of precise monitoring, touch screen control, simple and convenient.
Hospital respiratory monitor function

1. A device or system that can be compared with a known set value and can send out an alarm if the hospital respiratory monitor exceeds the standard.
2. The hospital respiratory monitor is different from the monitoring diagnostic equipment. It must continuously monitor the physiological parameters of the patient for 24 hours, detect the trend of change, point out the critical situation, and provide the basis for emergency treatment and treatment by the doctor, so as to minimize the complications and achieve alleviation. The purpose of eliminating the condition. In addition to measuring and monitoring physiological parameters, the use of monitors also includes monitoring and processing medications and conditions before and after surgery.
Scope of application

Patients with coronary heart disease;
Patients with hypertension;
Diabetics;
Patients with hyperlipidemia;
Obese people;
People who are sedentary or lack exercise;
People who smoke or drink excessively for a long time;
People who are under high pressure and often nervous; rescue critically ill patients
Quick details 
Place of Origin: CN; GUA
Model Number: MY-C006
Brand Name: MAYA
Color: White
Sensitivity: > 200 UV
Input Impedance:> 5 (megohm)
Risetime: 10us ~ 100us
Width: 0.1ms ~ 2ms
monitor: 15 inch
Amplitude: ±2 mV ~ ±700mV
parameter: 6
screen: color
feature: portable patient monitor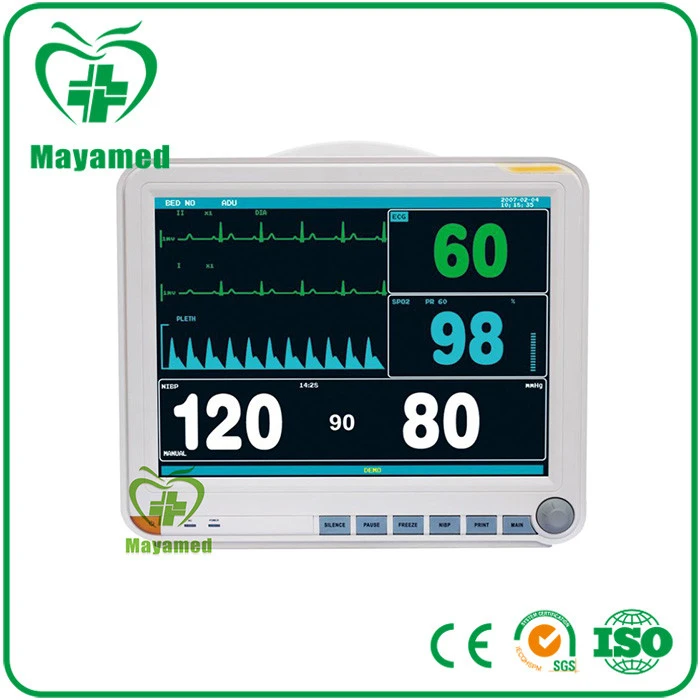 Features:
15-inch true color screen, wide viewing angle, high-brightness LCD display.
HR/PR, NIBP, RR, ECG, SpO2, TEMP
Brand-new high-precision module, with high measurement parameter accuracy, reliable quality, and stable performance.
Optional built-in rechargeable lithium battery, AC and DC dual purpose, light, energy-saving, and environmental protection.
Powerful storage capacity, full parameter trend chart data in the whole process, ECG waveform storage and playback, and power-down save function.
Optional printing output function, alarm triggered printing.
Automatic sound and light dual alarm, the upper and lower alarm limits can be set arbitrarily.
Defibrillation, high frequency electrosurgical interference
Fully synchronized multi-channel ECG display.
It is widely used in bedside monitoring, ICU/CCU, emergency center, family monitoring, etc. in various departments of the hospital.
The body is light and firm, easy to carry, suitable for adults, children, and newborns.
Standard configuration:
l HR/PR, NIBP, RR, ECG, SpO2, TEMP, Rechargeable lithium battery
Optional:
l Dual TEMP
l Dual IBP
l ETCO2
l Thermal recorder
l Wall mount
l Trolley
Specification:
ECG
Lead configuration
Standard 3-lead or 5-lead
3-leadRA,LA,LL,Lead method:I,II,III
5-leadRA,LA,LL,RL,V,Lead method:I,II,III,aVR,aVL,aVF,V
Increase
´250,´500,´1000,´2000
HR
Range
Adult 15 ~ 300bpm (beat/minute)
Neonatal baby/children 15 ~ 350 bpm(beat/minute)
Precision±1% or ±1bpm,the larger prevails
Resolution 1 bpm(beat/minute)
Sensitivity
> 200 UV (Peak-to-peak value)
Input Impedance
> 5 (megohm)
Bandwidth
Diagnostic mode0.05~130Hz
Monitoring Mode 0.5~40Hz
Operation mode1~20Hz
Common Mode rejection Ratio
Diagnostic mode> 90 dB
Monitoring Mode > 100 dB
Operation mode> 100 dB
Pole Polarization voltage Range: ±300mV
Pacing Pulse Test
Test pacing pulse in accordance with the following conditions:
Amplitude:±2 mV ~ ±700mV
Width: 0.1ms ~ 2ms
Risetime: 10us~100µs
Pacing pulse inhibition
When pacing analysis switch is on, pacing pulse in accordance with the following
conditions are restrained, but affection against HR calculation.
Amplitude:±2 mV ~ ±700mV
Width: 0.1ms ~ 2ms
Risetime: 10us ~ 100µs
Baseline Recovering Time
After defibrillation< 3 seconds
Signal Range
±8 mV (Peak-to-peak value)
Calibrating Signal
1mV(Peak-to-peak value),precision±5%
ST Segment Measuring Volume
Measuring range: -2.0mV ~ +2.0mV
Measuring precision: Ranging -0.8 mV~+0.8mV, measuring error is ±0.02mV or ±10%, The larger prevails.
No definition for other ranges.