Newborns are a very special group, and their blood pressure, electrocardiogram, blood oxygen, and other physiological signs are very different from adults. Traditional adult monitors are used to monitor newborns. The measurement data of ECG, heart rate and respiratory rate are often inaccurate. In addition, inexperienced nurses often misuse the adult mode to measure neonatal blood pressure, which can easily cause pressure injuries to the newborn's arm. Maya supplies neonatal monitoring equipment based on the characteristics of newborns.
Technical Parameter:
1. 7.5-inch color TFT display; built-in cooling system; Continuous running for more than half a month.
2. Convenient operation by touch screen. Operation interface in Chinese or English. It is easy to learn and use. Color coding in the display screen can be easily identified.
3. Monitoring parameter:Heart rate (have heartbeat),Respiratory rate,NIBF,SPO2,temperature,pulse(with intra-pulse modulation)
4. Unique oxygen analyzing function: used as oxygen analyzer alone; oxygen Concentration deviation alarm range can be set and will cause the monitor to give out a sound alarm.
5. Respiration monitoring: RA-LL impedance; Apnoea of 15 or 20 seconds alarm(adjustable). The apnoea alarm will activate if no respiratory movement is detected after 15-20s.
6. NIBP data is collected with the method of oscillometry. It is designed based on the neonatal vital signs; 135mmHg overpressure protection and disposable NIBF cuff can ensure safety.
7. Hear rate monitoring: collected from ECG and SPO2 (adjustable)
8. Temperature monitoring range: 24℃~40℃.
9. SPO2 monitoring: i.measurement range:80%-100% ii.pulse hint volume adjustable
10. Equipped with non-contact oxygen hood: design in an arc; both operation windows; have silicone flaps, deflector; specifically used by newborns and got an international patent.
11. Freeze and recall function help medical staff to do careful observation.
12. 1-72h storage and review of trend grams and tables
13. Multiple interfaces for clinical options.
14. Alarm:level3 intelligent multi-angle audible and visual alarm, and can set high-low limits for alarming; adjustable level3 alarming sound.
i. Lead:3-lead or 5-lead optional,3-lead or 5-lead automatic identification, display 7 waveforms simultaneously
ii. Defib.shock protection: 400J discharge
iii. Operation mode:dignosis,monitor,surgery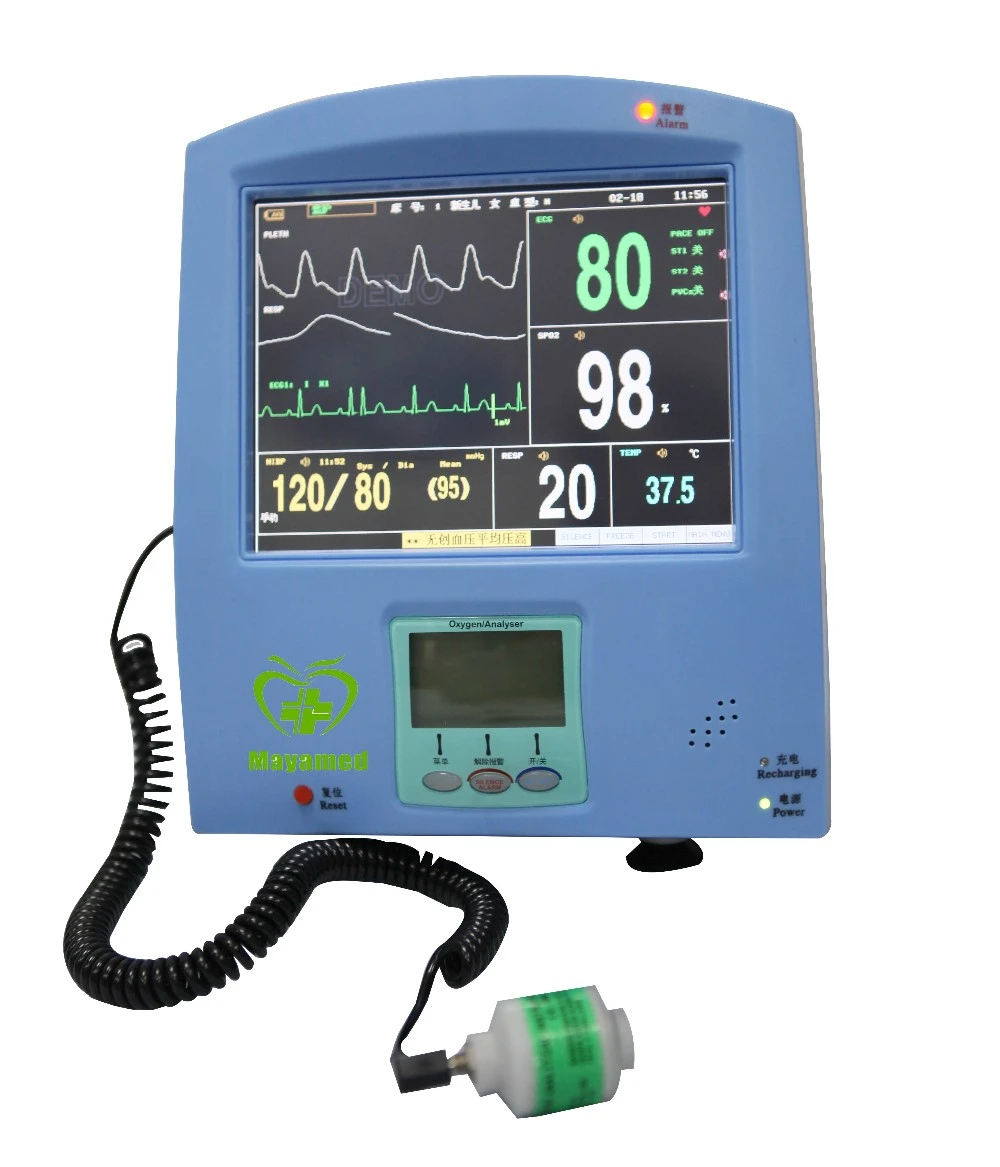 Company Information