Properties:Medical MRI Equipments
Patient Opening:76cm
Gantry Driven Type:Motor-driven
Tilt Capability:±30°
Gantry Remote-Control:Yes
Detector Type:GOS high-definition solid detector
Distance of Focus-Isocenter:570mm
Numbers of Detector Rows:32
Width of Z-Axle Detector:20mm
Slice Number:64
Power Source:Electricity
Warranty:1 Year
After-sale Service:Online technical support
Shelf Life:1years
Instrument classification:Class II
Place of Origin:CN;GUA
Model Number:MY-D055B
Brand Name:MAYA
Material:N/A
Quality Certification:N/A
Safety standard:N/A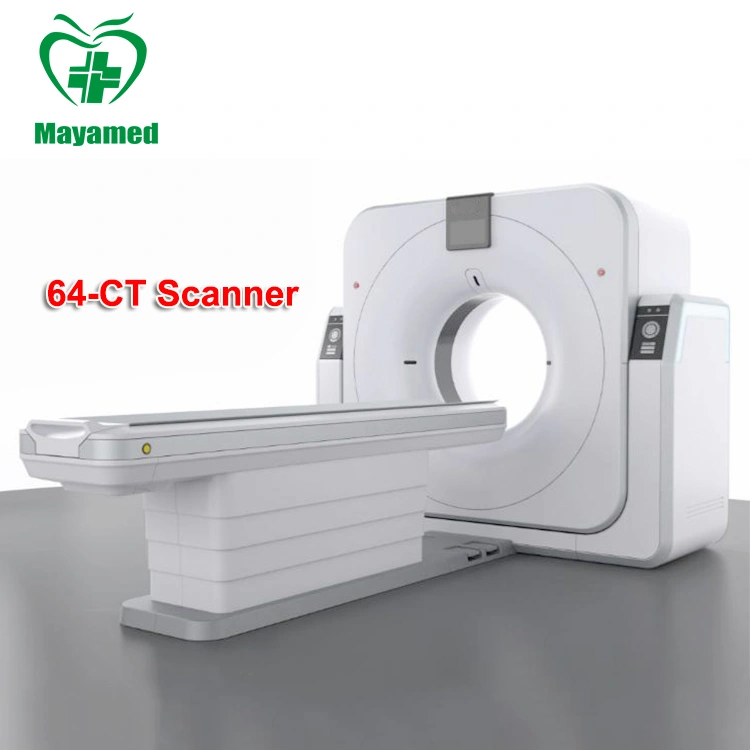 They are permanent MRI systems series with magnet field strength goes from 0.20T,0.30T,0.35T,0.42T to 0.50T, superconductive MRI systems series with magnet filed strength goes from 0.5T,0.7T,1.2T,1.5T to 3.0T. CT series with 16 slice, 32 slice and 64 slice. X-ray series like Ceiling suspension DR, U-arm DR, digital fluoroscopy, mobile digital X-Ray,digital mammography, etc. Full digital portable and trolley color Doppler ultrasound series; nuclear medicine series like single-photon emission computed tomography (SPECT), wide FOV gamma camera, etc.; medical linear accelerator, BHG-300 gamma ray head stereotactic radiotherapy series; and medical information software. With the high-quality, high-tech and high performance-price-ratio products, so far its markets have covered more than 50 countries and regions, including all domestic provinces, cities & autonomous regions; and Europe, America, Africa, Middle East and Southeast Asia, etc.
MY-D055B is a new 64 slice spiral CT scanner that MAYA company introduced in 2016, the system includes the industry's top technology, it can produce high-definition images, it has rich software function, meets the demand of the hospital for large daily patient flow, it has the major characteristics include:
The image chain of MY-D055B adopts mature technologies, the integrity of the system is balanced and strong.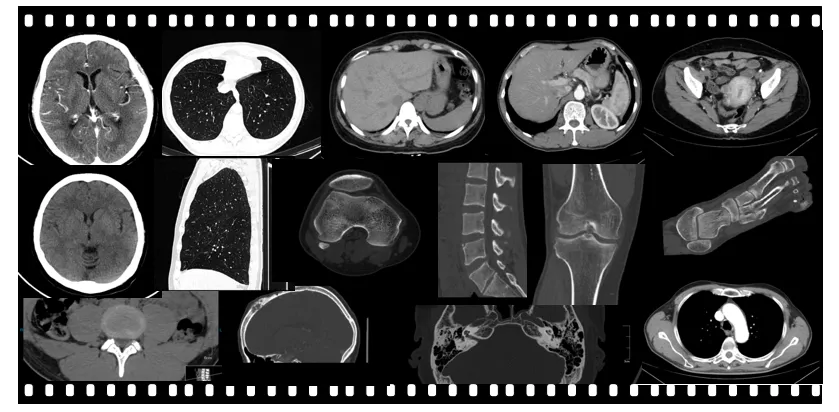 The system config the industry's leading dynamic real-time zooming technology and real 3D cone parallel reconstruction technology, so that the system can get the aperture expanded and at the same time get high definition image and leading high resolution image quality.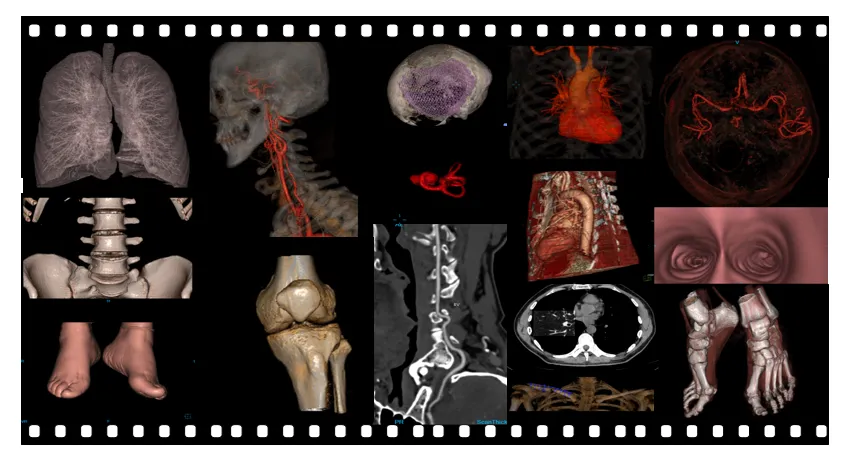 MY-D055B includes below high-lighted technologies and features: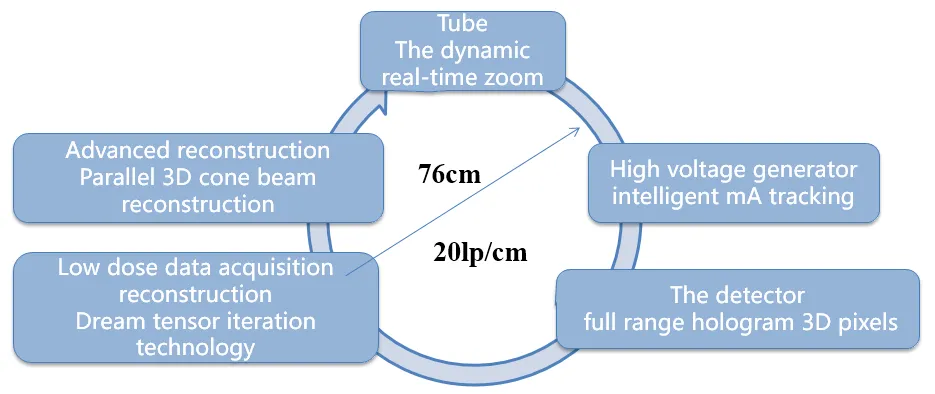 Mature and stable large heat capacity tube
This tube can meet the demand of large patient flow and complex scanning, in the meantime, guarantee the system operating costs under control.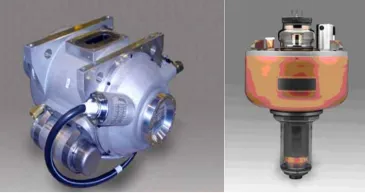 Dynamic reconstruction convolution technology based on FOV
Dynamicreconstruction convolution technology based on FOV can real-time match the algorithm along with the different field of view to ensure different tissues have an optimal effect in the images, this technology is similar as the digital camera, ensures that the users can dynamically capture the best photos.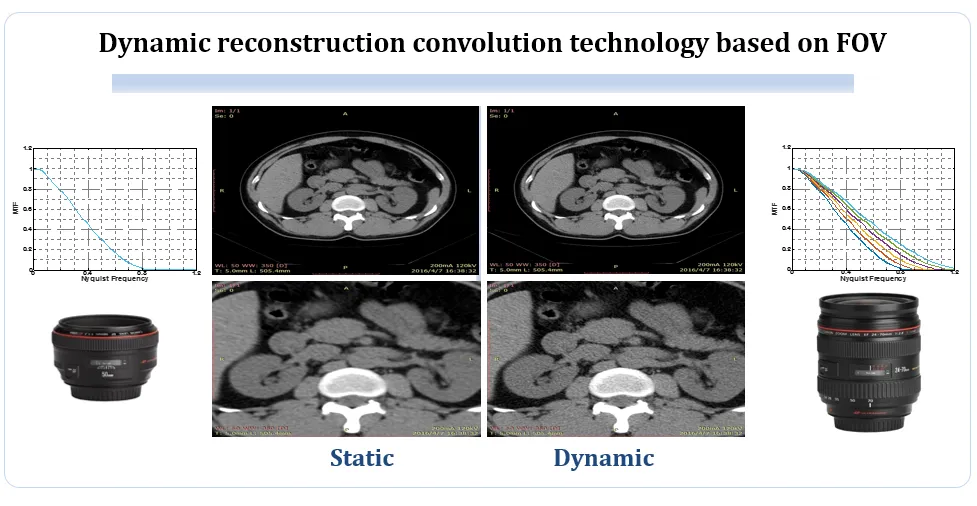 (1)The upper left and right image are identical and replace them with a better patient body image generated by BCT at FOV of 50cm, 45cm or 40cm, whichever is appropriate.
(2)The lower left image was just cut off the upper left image into half in size and enlarge by factor 2 to get the same size but blurred image.
(3)Replace the blank blue block with the image reconstructed at half FOV of the upper right image, using the image matrix dimension 512x512 identical to that of the upper right image.
(4)As such, the point of dynamic reconstruction kernel can be illustrated.
Intelligent mA tracking technology
On the premise of the quality of the image guaranteed, the system can automatically adjusts the output tube current in Z axis direction and X axis direction.Intelligent mA tracking technology can reduce about 40% radiation dose.

Parallel 3D cone beam reconstruction technology
Integrated parallel computing reconstruction based on true 3D cone beam, the final image is closer to the true tissue, the image is clearer.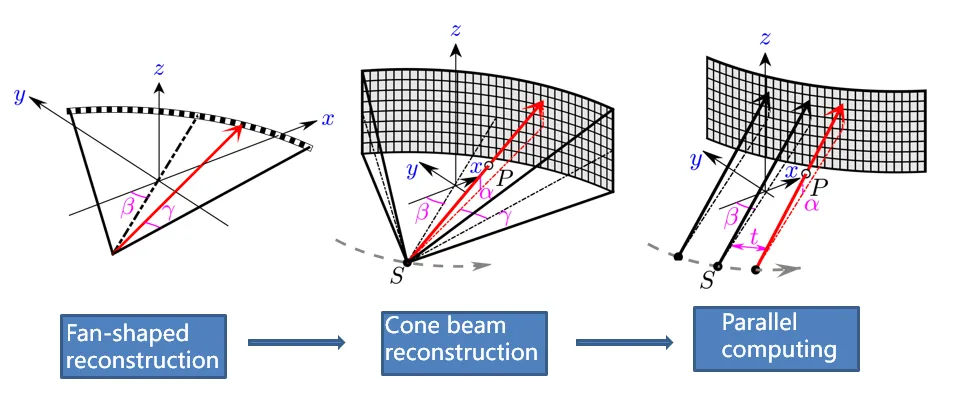 iDream tensor iteration low-dose technology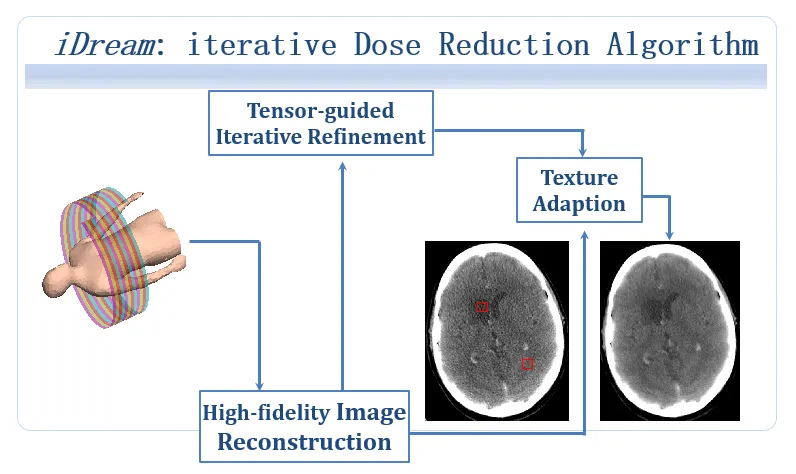 76 cm aperture design
Place the patients at ease and comfortable.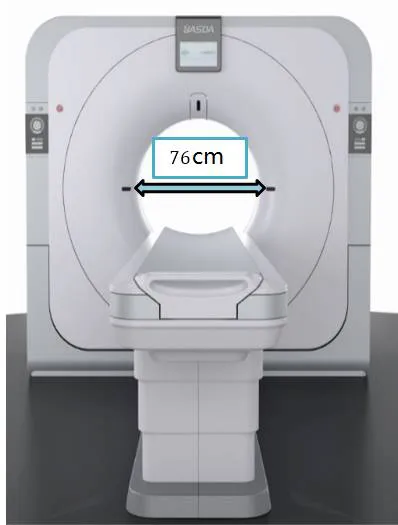 MY-D055BSpecification
No.

Item

Specification

1

Gantry

1.1

Patient Opening

76cm

1.2

Gantry Driven Type

Motor-driven

1.3

Tilt Capability

±30°

1.4

Gantry Remote-Control

Yes

1.5

Detector Type

GOS high-definition solid detector

1.6

Distance of Focus-Isocenter

570mm

1.7

Numbers of Detector Rows

32

1.8

Width of Z-Axle Detector

20mm

1.9

Detector Columns of Channels per Row

864

1.10

Numbers of Detector Columns

27648

1.11

Slice Number

64

1.12

DAS Column Number

55296

1.13

DAS Acquisition Modes

64×0.625mm




32×0.625mm




16×1.25mm




8×2.5mm




4×5.0mm




2×10mm

1.14

Data-Transfer Type

RF,optical fiber communication

1.15

3D Laser Orientation

Provided

1.16

Automatic Exposure Control

Provided

1.17

Auto-Voice Function

Yes

2

Scan Parameter

2.1

Shortest 360 Degree Rotation Time

0.39s

2.2

Allowed Rotation Times

0.39s, 0.5s,0.6s,0.7s, 0.8s,1.0s,2.0s

2.3

Slice Numbers of Rotation

64

2.4

Minimum Scan Slice Thickness

0.625mm

2.5

Minimum Reconstruction Thickness

0.625mm

2.6

Maximum Scan Slice Thickness

10mm

2.7

Reconstruction Slice Thickness

0.625mm

2.8

Speed of Image Reconstruction

10 frames/s

2.9

Scan FOV

50cm

2.10

Max. Image Reconstruction Matrix

1024×1024

2.11

Max. Image Display Matrix

1024×1024

2.12

Maximum Continuous Scan Duration

100s

2.13

Maximum Continuous Scan Length

1950mm

2.14

Range of Pitch

0.13-1.5

2.15

Scan Mode

Scout Scan

Axial Scan

Helical Scan

Cine Scan

3

HV generator and Tube

3.1

Maximum Output Power of Generator

80kW

3.2

Tube kV Selections

80kV,100kV




120kV,140kV

3.3

Tube mA Range

10~667mA

3.4

Tube Heat Capacity

8.0MHu

3.5

Heat Dissipation Rate

931 kHU/min

3.6

Type of Cooling

Oil cooling + Air cooling

3.7

Tube Focus

1.1mm×1.2mm




0.6mm×1.2mm

3.8

Flying Focal Spot Technology

Provided

3.9

mA Modulation Technology

Provided

4

Patient Table

4.1

Can Position Outside of Scan Room

Yes

4.2

Laser Position System Accuracy

±1mm

4.3

Maximum Horizontal Movable Range

1950mm

4.4

Table Horizontal Scan Range

1850mm

4.5

Table accuracy

0.25mm

4.6

Table Vertical Movable Range

425~990mm

4.7

Maximum Speed of Vertical Movement

16.5mm/s

4.8

Maximum Speed of Horizontal Movement

5 mm/s ~ 160 mm/s ±3%

4.9

Maximum Patient Weight

250kg

4.10

Foot Pedal of Table

Optional
Service
MAYA come to the market since 2000, got great improvement in service, gradually establish a set of mature service strategy, including
*Three-level service network
1.Local partner engineer: primary diagnosing + in site maintenance
2.MAYA service engineer: remote technical support + in site service (in case necessary)
3.MAYA R&D center: technical support
*Spare parts
1.Inventory is always ready
2.Delivery by express: within 2 working days pack off
3.Engineer carry-on: For big issue engineer will be in site with the spare parts service
Site requirements
Sample, the system needs at least 2 rooms, shown as following: