Output Image size:50 mm
Survey Thinkness:300 mm
X-ray tube voltage:45-70KV
X-ray tube voltage deviation:≤10%
Tube current:0.25-0.5mA
Tube current deviation:≤20%
Resolution:≥3lp/mm
Generator working frequency:20Khz
Weight:≤3.6KG
Power Supply:AC220V±10%
Power Source:Electricity
Warranty:1 Year
After-sale Service:Online technical support
Shelf Life:1years
Instrument classification:Class II
Place of Origin:CN;GUA
Model Number:MY-D001B
Brand Name:MAYA
Material:N/A
Quality Certification:N/A
Safety standard:N/A
MY-D001B Hospital fluoroscopy Portable X-ray machines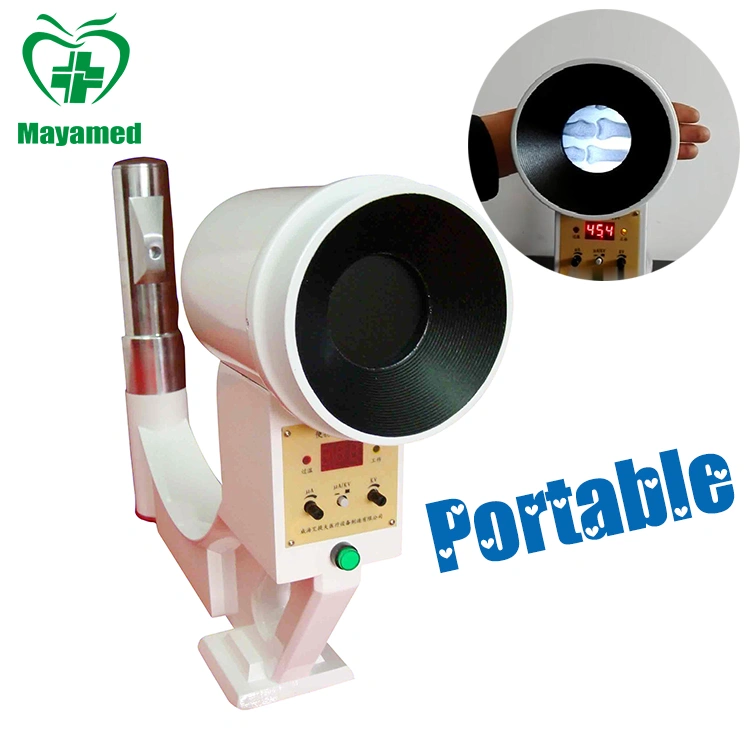 | | |
| --- | --- |
| Output Image size | 50 mm |
| Survey Thinkness | 300 mm |
| X-ray tube voltage | 45-70KV |
| X-ray tube voltage deviation | ≤10% |
| Tube current | 0.25-0.5mA |
| Tube current deviation | ≤20% |
| Resolution | ≥3lp/mm |
| Generator working frequency | 20Khz |
| Stand-Position Protection Area | ≤0.33mGy/h |
| Weight | ≤3.6KG |
| Power Consumption | ≤200W |
| Power Supply | AC220V±10% |
The scope of application of products:
This machine is suitable for the hospital orthopedic, limb or other smaller, thinner parts for X-ray clinical examination.
The operation method:
1, The use of the first check the appearance of the box in the transport process for damage. Out of the box to check whether the host has a collision damage traces.
2, Then remove the host, the additional protective screen at the front of the three gap at the front of the three screws into the rotation angle of an additional protective screen can be fixed.
3, Turn on the power of the switch (insert the power plug into the three-hole single-phase power socket with grounding wire). The switch power indicator light is on, and the digital control panel lights.
4. Press the start button, the digital display panel shows the anode voltage (KV) or the anode current (μA) of the X-ray tube (depending on the selection switch), press the switch to display the anode current, press the switch again Shows the anode voltage, indicating the instrument has been working, this time the screen was yellow-green.
5, The object is placed between the decorative tube and the liquid crystal display, (objects as close to the liquid crystal display), you can see the measured object in the fluoroscopy perspective image.
(KV) adjustable knob, the voltage knob clockwise rotation, the current value is small, the current value is small; the voltage (KV) adjustable knob, the voltage knob rotation clockwise, The voltage value becomes larger; counterclockwise rotation; voltage value becomes smaller, until the image clarity is satisfactory.
7, In ensuring the premise of a clear image, should be possible to use low current (μA) for perspective.
8, When the hand presses the start button, the X-ray tube sends out the ray, has the work indicating lamp instruction on the digital display operation plate, presses the start button again or the fixed time time arrives, the X ray tube stops working (timing set in 1 minute about).
9, The machine should be intermittent use, if the continuous working time is too long, more than the machine effective operating temperature range, the machine will automatically shut down, at this time on the digital display panel over-temperature indicator light, need to stop a moment, until the temperature decreases Recovery time, depending on the ambient temperature.
10, Fluoroscopy as far as possible so that patients stay away from the ray focus and close to the LCD side, reducing the absorption of human skin dose.