Type:Doppler Ultrasound Equipment
Name:Digital Color Doppler
Screen:15 inch High definition LED monitor
Certificate:CE ISO
Net weight:45 kg
Gross weight:75 kg
Package:70,5x64,5x135 cm
Power Source:Electricity
Warranty:1 Year
After-sale Service:Online technical support
Shelf Life:1years
Instrument classification:Class II
Place of Origin:CN;GUA
Model Number:MY-A031B
Brand Name:MAYA
Material:N/A
Quality Certification:N/A
Safety standard:N/A
High quality MY-A031B hospital professional Digital Color Doppler Ultrasound Scanner System(3D/4D)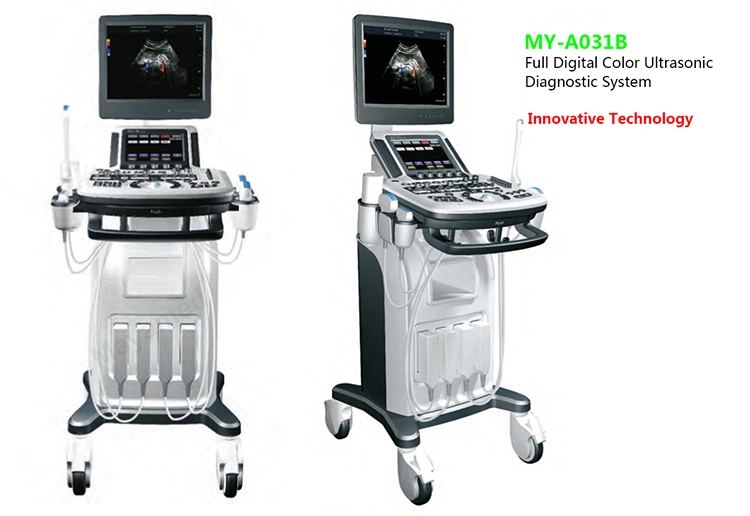 *15 inch High Resolution Medical LED Monitor
*8.4 inch anti-dazzle LED touch screen
*Rotatable console and foldable monitor
*4 Activated transducer Ports
*Smart image optimization technology generating excellent 2D image
*3D/4D available (Optional)
*Dual/Triples Synchronous
*Probe automatically frozen protection
*Task light indicating the current task facilitates the operator
*DICOM3.0 available
*Hidden drawing keyboard
*Humanity gel heating cup
*Advance Imaging Technology: It is a full featured ultrasound system offering Spatial Compounding Imaging,Trapezoidal Extended Imaging, Extended Pulse Imaging (EPI), and Speckle Noise Removal Technology, Real-time 4D Imaging, Free-hand 3D Imaging, Dual/Triple Synchronous, and Color Deflection Technology.
*Outstanding Systemic Application: It has excellent performance in Obstetrics, Gynecology, breast,
musculoskeletal and Blood Vessel areas. Build-in perfect analysis package, including Cardiac, Obstetrics,Urology, Abdomen, Gynecology, Orthopedic, small parts, Blood Vessel etc.
*Net weight: 45 kg – Gross weight: 75 kg
*Package: 70,5x64,5x135 cm
*15 pouces haute résolution Medical LED Monitor
*Ecran tactile LED 8,4 pouces anti-éblouissement
*Console pivotante et moniteur pliable
*4 ports transducteurs activés
*Technologie intelligente d'optimisation d'image générant une excellente image 2D
Optional accessories:
• Convex array transducer
• Trans-vaginal array transducer
• Linear array transducer
• Micro-convex array transducer
• Micro-convex array transducer (Vet)
• Trans-rectal array transducer (Vet)
• Convex transducer punture guide
• Vaginal transducer punture guide
• Linear transducer punture guide
• UPS
• Lithium battery
• B/W Laser printer
• Foot switch
• Gel
• Thermal printer
• Thermal printing paper
Accessoires optionnels:
• Transducteur matriciel convexe
• Transducteur trans-vaginal
• Transducteur linéaire
• Transducteur micro-convexe
• Transducteur micro-convexe (Vet)
• Transducteur trans-rectal (Vet)
• Guide de ponction transducteur convexe
• Guide de ponction de transducteur vaginal
• Guide de ponçage de transducteur linéaire
• UPS
• Batterie rechargeable
• Imprimante laser B / N
• Interrupteur au pied
• Gel
• Imprimante thermique
• Papier d'impression thermique