Place of Origin:CN;GUA
Model Number:MY-C036C
Brand Name:MAYA
Type:Spirometer
Sensor Type:Pressure Sensor
Flow Accuracy:±5% or 200m l/s
Volume Accuracy:±3% or 50ml
Flow Range:±16L/S
Capacity Range:0-10L
Power Supply:Rechargeable Battery and Power Line Supply
Screen size:5.5 inches sun screen
Appearance size:216*89*58mm
Printer/Paper:Thermal, Printing Paper 40mm
Weight:0.5kg

MY-C036C Medical Lung function instrument detection tester system Electronic Portable Spirometer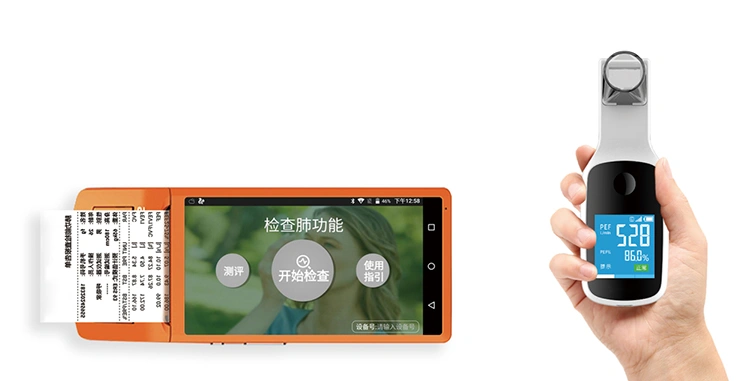 Primary hospital preferred pulmonary function instrument
1. Chronic Obstructive Pulmonary Disease, Bronchial Asthma, Emphysema, Chronic Bronchitis, Pulmonary Fibrosis and Pneumoconiosis
Assessments, as well as the evaluation of the therapeutic effects of these diseases;
2. Examine multiple sputum and coughers;
3. Assess the effects of age growth on respiratory organs;
4. Assess the impact of smoking or air pollution;
5. Anesthesia and pre-operative examination;
6. Hospital, school medical examination.
The main measurement parameters: PEF, FEV1, FVC, FEF25%-75%, MEF25%, MEF50%, MEF75%
Sensor Type: Pressure Sensor
Accuracy: Flow Accuracy: ±5% or 200m l/s; Volume Accuracy: ±3% or 50ml
Range: Flow Range: ±16L/S; Capacity Range: 0-10L;
Power Supply: Rechargeable Battery and Power Line Supply
Screen size: 5.5 inches sun screen
Appearance size: 216*89*58mm
Printer/Paper: Thermal, Printing Paper 40mm
Weight: 0.5kg